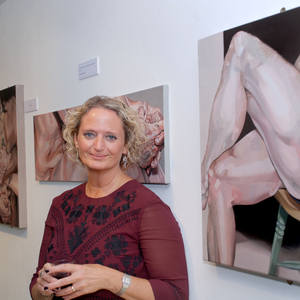 Follow
Jo Beer
Saltash, Cornwall, United Kingdom
About Jo Beer
I am based in Cornwall UK. My work is predominantly figurative. The wonderful thing about people is that there is no such thing as an 'ordinary' person...Everyone is extraordinary in their own way. I love the quirks and details that make someone stand out from the next person. I love detail, be it fabrics,patterns, or styles, or blemishes, scars, folds, creases,tones of a nude. I choose to use oil always, it has a wonderful silky fluidity that suits my work. I have twice been a finalist in Sky Art Portrait Artist of the Year, with one of my images ( not pretty but pretty honest) being selected to appear over and over in a huge installation of a portrait of The Mona Lisa on Clapham Common, London following series one. I am currently working on a series of approximately 30 anonymous portraits for a solo exhibition in Devon, UK in Oct 2019. 'On The Face Of It' refers to the way that we pass judgement at first glance, and that our opinion can change if we take the time to look a little closer.
Education:
Saltash, A level Art, taught by Vincent Wilson ( one of the Newlyn Sch of artists) - self developed since then.
Events:
2016 August. Fleshy solo show TRP Gallery, Devon UK (8 Aug-21Nov). 2016 July Forms of Consciousness Cube 3 Gallery, Devon UK. 2015 Sept 'Unconscious Dialogue' Cube3, Devon UK.
2015 Juried selection, portrait exhibition, Pasadena, CA
2014 Sept. First solo exhibition, Plymouth.
2013 July - finalist in Sky HD Portrait Artist of The Year, Cardiff. 2013 June 19 - August 3rd - 'In Bloom' redearth gallery, Bickleigh, Devon.
Exhibitions:
2019 October 'On The Face Of It' solo show TRP Gallery, Devon, UK 2018 September. Atelier an der Donau, Ybbs, Austria...residency
2018 9th July - 14 August 'Future Pathways' Cube 3 Gallery,Portland Sq, Plymouth, Devon.UK
2018 April 19 'Celebrate Life', The Harbour House, Kingsbridge, Devon. UK
2017 July ' String of Theories' Cube 3, Gallery, Devon UK. 2016 August 'Fleshy' solo exhibition. Theatre Royal Plymouth, Devon.
2016 July Forms of Consciousness, Cube3 Gallery, Devon. 2015 July 'Unconscious Dialogue' exhibition, Cube3 Gallery, Plymouth.
2015 March 'Portraiture' juried exhibition, Linus Gallery, Pasadena,CA
2014 Sept - Nov'Plymouth Adorned' Theatre Royal Gallery, Devon. Solo portrait exhibition.
2013 July - finalist in Sky HD Portrait Artist of The Year 2013 June - The Saltash Ferryman unveiled. Jo is part of the team that created a Heritage Lottery Funded public sculpture to conserve the history of the ferry that crossed the Tamar at Saltash for over 900 years.
2013 May 4 - July 1st - Versions Of You, Milk No Sugar, Brighton, UK
2013 February - Trerise Gallery, Plymouth, UK
2012 November - Trerise Gallery Open Art Competition, Plymouth, UK - Jo takes first prize with "Slice of Phoebe" portrait
2012 May to June - Ashtorre Rock, Saltash, Cornwall, UK
2011 December - Saltash Library, Cornwall, UK
2009 April - Artstyle Show, Cotehele House, Cornwall, UK
2008 November - Drawn To The Valley group exhibition, Mount Edgecumbe, Cornwall, UK
2008 August - Upton Cross Open Art Show, Cornwall, UK
2008 April - Saltash Library, Cornwall, UK
2005 August - Stuart House Open Art Competition, Liskearde, Cornwall, UK
1999 August - Town Hall Open Art Competition, Liskearde, Cornwall, UK
1994 July - Theatre Royal, Plymouth, Devon, UK
Recent Activity