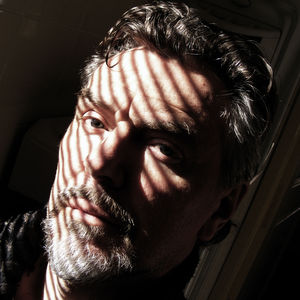 Follow
Jo King
Zaltbommel, Netherlands
About Jo King
Born 1959 Buckinghamshire, England. Son of British painters Jeremy and Brenda King. Trained in theatre. Figurative painter. Subjects are mostly portraits and nudes in dramatically lit settings. Strong emphasis on light and shadow or Film Noir lighting techniques to define the subjects. Favorite painters Andrew Wyeth, Norman Rockwell, Egon Schiele, Alphonse Mucha, lots of Neo Classical works ...and let's not forget Gil Elvgren!
Education:
Studied theatre at Dartington Collage of Arts 1977 - 81
1989 - 97 Horse and Bamboo theatre
1998 - 2001 Pentabus theatre company
Painting since 1998
2007 Leeds City Art Gallery
Shortlisted for RA show
Glass House Gallery
Drawing Room gallery
2008-10 Art Fairs at Chelsea, Edinburgh, Chester Race Course, Tatton Park, Buxton Pavillions, Cambridge and Royal College of Art with Marsling Fine Arts.
2010 elected a member of the Bommelse Kunst Route.
2011 Theater De Poterij, Zaltbommel.
Bommelse Kunst Route
2012 Theater De Poterij, Zaltbommel.
Bommelse Kunst Route. Open atelierroute - Kunst,Kiezel,Klei.
2013 Bommelse Kunst Route.
Exhibitions:
For further information on these paintings and more please visit my website - www.jokingpaintings.com

For any enquiries (regarding prices, commissions etc.) email me at kingvilla@hotmail.com

Thank you for visiting.

Future Exhibitions 2014

June 21,21,28,29 Open Atelier Route "Bommelse Kunst Route, Zaltbommel,Netherlands. Atelier Lange Steigerstraat 30. Open between 11:00 and 17:30
Recent Activity