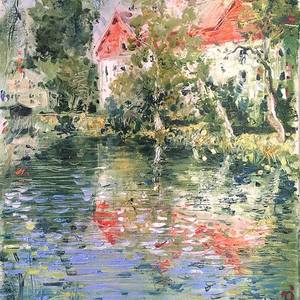 Follow
Inga Jurane
Riga, Latvia
About Inga Jurane
Inga Jurane is an independent artist, born in 1972, Riga, Latvia. Actually lived and worked in Riga. Artist academical background is in ceramics and visual communications. Professional experience in environmental graphics, print, interactive, photography and illustration. Graduated from Art Academy of Latvia, MA, Visual Communication department. Participated in several exhibitions from 2002. Participated in several group exhibitions in Latvia. Has had 5 solo exhibitions. Has participated in plain air workshops in Latvia and abroad. Sweden, Russia, French. Nature, landscapes are her main subjects. Other artist subjects are portraits, and abstracts. Everyday life, in all colors side by side flow in the patterns. The inspiration comes from life expiriences of the spirit depicted in two dimensional space. Drawings, paintings, oil colors, aqua, ink, and mixed media. Media no borders. Today artist favorite medium is oil on canvas.
Education:
Art Academy of Latvia. MA (2004)
Highschool of Applied Arts in Riga Ceramic dep.
Events:
Particiment in internetional painting biennalle "Marine"
2019. Jurmala, Latvia.
Artist Group exhibition at concept fashion shop A CLASS. Riga Berga Bazar. 2018. december.


Exhibitions:
Personal exhibition
MEMORIES AND DREAMS
9.june - 16.July 2018.
Culture palace ZIEMEĻBLĀZMA, Riga.

Recent Activity