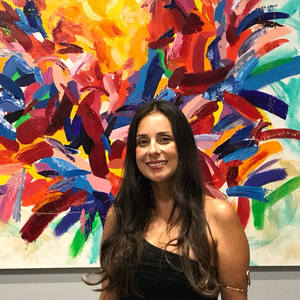 Follow
Karina Matheus
North Miami, FL, United States
About Karina Matheus
Born in Caracas, Venezuela. When I was 7 years old I fell in love with Kandinsky, the music, the dance and spiritual books. I live in Miami since 2008. I have spent these years supporting the cultural movement and organizing numerous cultural events promotion with my art project BEART. I believe that in the abstractionism lives a chromatic dance that establishes a triangular dialogue between the artist, the spirit and the divinity. In my search, I invite the viewers to be my companion, to immerse in the world of my abstract paintings and installations and discover oneself. I encourage the viewers to explore the possibility of communication between the inner world of human beings and the outside world of the collective.
Education:
I studied Arts in Cristobal Rojas School of Art and Universidad Central de Venezuela; Music in Jose Angel Lamas School of Music and Jose Lorenzo Llamozas School of Music; Photography in Roberto Mata School of Photography; Dance in Julio Campos Academy; Literature Courses in Universidad Central de Venezuela and Universidad Simon Bolivar.

I have a Bachelor in Communications and Cine in Universidad Catolica Andres Bello and Master in Marketing in Universidad Metropolitana.
Exhibitions:
Selected exhibitions:

• COLLECTIVE SHOW Ninoska Huerta Gallery – Nov 2018 - Coral Gables, FL.
• A JOURNEY THROUGH PERSPECTIVE Organized by IPSP, ArteLatam & Saphira & Ventura Gallery NYC – Sep 2018 – USA.
• NEW PROPOSALS Group Show Ninoska Huerta Gallery – Aug 2018 - Coral Gables, FL.
• COME TOGETHER Painting + Augmented Reality in collaboration with 2HandedCoding. AR Experience at Crudos Fusion Art presented by Miami Limited Edition - July 2018 - Wynwod, FL.
• THE COLOR RIDES IN CORAL GABLES Group Show Ninoska Huerta Gallery – May 2018 - Coral Gables, FL.
• RADICAL CONCEPTS Group Show - Art Basel Season Miami Beach curated by ArtBCo - Dec 2017 - Cervera Real State - Miami, FL.
• 72 ARTISTS FOR VENEZUELAN JOURNALISTS by IPSP - Aug 2017 – Miami Biennale, Miami, FL
• REALITIES & BEYOND Group Show curated by Dr. Milagros Bello – Curator's Voice Art Projects - Apr 2017 - Wynwood, Miami, FL.
• CUSPS presented by RAW Miami (2017) Fort Lauderdale, FL.
• OPTICAL SHIFTS Group show curated by Dr. Milagros Bello – Curator's Voice Art Projects (2017) Wynwood, Miami, FL.
• PREMIUM Basel Season Group show curated by Dr. Milagros Bello – Curator's Voice Art Projects (2016) Wynwood, Miami, FL.
• DICTUM Pre Basel Group Show – Curator's Voice Art Projects – Oct 2016 – Wynwood, FL.
• WYNWOOD Juried Show Fall Edition Honorific Mention Painting – Curator Milagros Bello Ph.D – Sep 2016 – Wynwood, FL.
• COLLECTIVE Group Show – Montini Art Gallery – Sep 2016 – Miami, FL.
• EXPOSURE Group Show – Curator's Voice Art Projects – Sep 2016 – Wynwood, FL.
• POST KINECTICS Group Show – Curator's Voice Art Projects – Aug 2016 – Wynwood, FL.
• WYNWOOD Juried Show Honorific Mention Painting – Curator Milagros Bello Ph.D – Jul 2016 – Wynwood, FL.
• ABSTRACT FIGURES Group Show – Curator's Voice Art Projects – Jun 2016 – Wynwood, FL.
• REAL / UNREAL Group Show – Curator's Voice Art Projects – Apr 2016 – Wynwood, FL.
• CHROMATIC SOUNDS Group Show – Humboldt Group Foundation – Apr 2016 – Coral Gables, FL.
• COLLECTIVE 12 Group Show – Wilau Arts Gallery – Apr 2016 – Boca Raton, FL.
• UPFRONT Group Show – Curator's Voice Art Projects – Apr 2016 – Wynwood, FL.
• ART BOCA RATON 2016 Art Fair – Curator's Voice Art Projects – Mar 2016 – Boca Raton, FL.
• THREE IMAGINARY WORLDS Group Show - BEART - Nov 2015 - Miami, FL.
• MARIA MAGDALENA Group Show - Artifice Gallery - Jul 2015 - Miami, FL
• NEW EXPRESSIONS OF LATIN AMERICAN ART IN SOUTH FLORIDA Group Show - May 2015 - Ana G Mendez University - Miramar, FL
• HEARTH Earth Celebration Group Show - Artifice Gallery - Apr 2015 - Miami, FL
• DANSE DES FEMMES Group Show - New Professions Technical Institute - Apr 2015 - Miami, FL
• THE VESSEL Group Show - BEART Series - Eurosuites - Aug 2014 - Doral, FL

Recent Activity