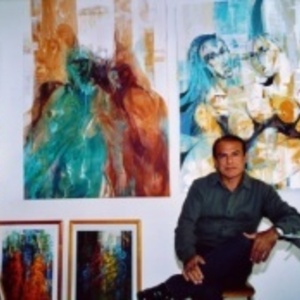 Follow
Ali Latif
Darmstadt, Hessen, Germany
About Ali Latif
Born 1944 in Sulaymanya in the kurdish part of Iraq, He died after a heart operation in July 2009 I am almost painting since my 4 birthday.

Art for me is a part of freedom.
But also I had to take the responsibility for my people, the kurdish people in Iraq. Our life, our culture, our history it always was a source of inspiration for my art. In the 90th this made my life so dangerous to me and my family, that we were forced to leave our country.

I think every painting should
have an idea. I paint like a
poet or a composer.
There is almost a story in it.
Sometimes hidden. Sometimes
more clear, and sometimes it
must be explained.

Many of my former kurdish
artist friends are now living
in different country outside
Iraq. Kurdish artistry has a
long tradition but it is not
tradional.
Education:
I had a little art teaching in school an highschool, but almost I have learned by myself.
Later I became art teacher and artinspector of the schools and high school in my hometown
Single Exhibitions
1964 Sulaymanya, Kurdistan, Iraq
1983 Sulaymanya Museum, Kurdistan,Iraq
1985 Sulaymanya Gallery, Kurdistan, Iraq
1987 National Museum for Modern Art, Bagdad, Iraq
1988 Sulaymanya Gallery, Kurdistan, Iraq
1988 Al-Rashed Gallery, Bagdad, Iraq
1991 Sakis, Iran
1991 Sina, Iran
1992 Sulaimaniya Museum
1994 Surkew Gallery, Sulaimaniya
1995 Technical University Darmstadt, Germany
1995 Hofgut Gallery Reinheim, Germany
1997 Town hall,Seeheim, Germany
1998 art & Begegnungen Gallery, Mannheim, Germany
2000 Artforum Sdhessische Gas- und Wasser AG, Darmstadt Germany
2001 Artclub Griesheim, Germany
2002 Pro Regio Gallery,Darmstadt, Germany
2005 Rive Gauche gallery Nieder-Modau/Germany Pro Regio Gallery Darmstadt Germany
2007 Sardam Galery, Sulaymanya, Kurdistan/Iraq
2009 Agricultura Kassel / Darmstadt / Saarbrücken/ Speyer/ Germany

Group exhibitions
1970 International Youth Exhibition, East Berlin
1972 Exhibition with Ata Qhzaz and Kamil Mustafa, Sulaimaniya,
1977 7. All Kurdish Artist Exhibition, Sulaimanyia
1984 Kurds Artists Exhibition, Rome, Italy
1988 International Illustration, Paris, France
1988 1. price in the Political Poster Conpetition, Touring Exhibition, Poland, Turkey, Romania
1988 Exhibtion of international artists Bagdad, Iraq
1990 Kurds artist exhibtion, Arbil, Kurdistan Iraq
1991 Exhibition with artists on flight, Sakis Iran
1997 13. Cultural Weekend, Flrsbachtal, Germany
1998 Villa Euleneck, Bensheim, Germany
2000 Gallery K. Mhltal, Germany
2000 State Theater, Darmstadt, Germany
2002 Metropolitan Museum, Tokyo, Japan
2004 Gallery Capriola, Groostheim, Germany
2004 Gallery Horse, Toronto, Canada




,
Events:
Future Shows: group exhibition with Jaala at Metropolitan Museum Tokyo in July 2006
Recent Activity