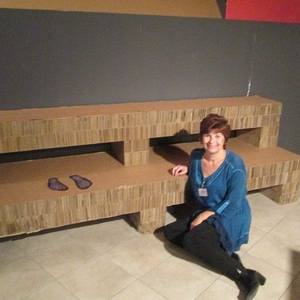 Follow
Lolita Nikolova
Salt Lake City, UT, United States
About Lolita Nikolova
Lolita Nikolova, PhD, is a multimedia artist, scientist, anthropologist, archaeologist and genealogist (ancestry.com). Science and art compliment in her personality to build high cultural values. World Culture Examiner at the International Institute of Anthropology.
Education:
PhD in Anthropology (1991), MH History with second major Philosophy (1985), AAS multimedia (June 2014), MA Forensic Psychology, Argosy University (December 2014). EdD candidate (since 1 Jan 2015)
Events:
Salt Lake City, Utah, USA, Alpine Art Gallery. Honoring Utah Artists, December 2016.
Sofia, Bulgaria. 14 October 2915. Digital artshow presentation to accompany the awards for humanity "Georgi Markov". Georgi Markov was a talented Bulgarian journalist and writer who was killed by KGB in the United Kingdom in the period of the Cold War.

Exhibitions:
Honoring Utah Artists, Alpine Art Gallery, Salt Lake City, Utah, USA, December 2016. Juried exhibition.
SLCC President's Artshow, Salt Lake City, Utah, USA, November 2016. Participation with a juried artwork.
SLCC President's Artshow, Salt Lake City, Utah, USA, November 2015. Participation with a juried artwork.
SLCC President's Artshow, Salt Lake City, Utah, USA, November 2014. Participation with a juried artwork.
SLCC Annual Student Art Show, Salt Lake City, April 2014. Participation with a juried artwork.
20th Annual Arts in Harmony 2015 International Arts Show organized by Elk River Area Arts Alliance, Elk River, MN; Monday, February 2 – Thursday, March 26, 2015
Karlovo - City Art Gallery, 2 Dec - 15 Dec 2014
Karlovo - Bukhalov Khan, group artshow, Nov - Dec 2014
Zagreb Private Gallery, Plovdiv, Bulgaria, Oct - Nov 2014
Mod Private Gallery, Downtown Salt Lake City, November 2014-
Snowbird Resort (Winter 2014; Summer 2014; Winter 2014-2015)
Salt Lake Community College - Multicultural Artshow (2012, 2013, 2014) & the President's Artshow (2013; 2014)
Contemporary Design & Art Gallery, Downtown Salt Lake City (2012)
Recent Activity