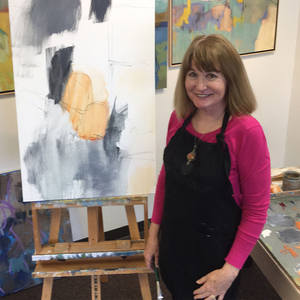 Follow
Lynne Cunningham
Davis, CA, United States
About Lynne Cunningham
I paint the expression of a place or an idea; I try to identify and understand what I wish to say in my artwork, and then I begin, keeping this expression foremost in mind. My abstracts are rooted in my career as a landscape architect, and I completed many urban public works projects in Northern California. My other designs and paintings begin from imagination. My artwork focuses on subjects most intimate and familiar to me: cityscapes, landscapes, memory paintings or derived from nature.
Education:
B.S.L.A., College of Architecture and Environmental Design, Cal Poly University, San Luis Obispo, CA
drawing workshop, University of Santa Cruz
textiles workshop, University of Southern California extension


Events:
Winter Collection 2017/18 and Summer Collection 2017, Ritz-Carlton Lake Tahoe
Spring art events in the Palm Springs Area; Spring 2017
ENGAGE Art Fair; part of Arts in April, Napa Valley, California, April 30th and May 1, 2016
"Common Threads, 3 Abstract Artists", Red Dot Gallery, Aug. , 2015


Exhibitions:
I've exhibited at the Ritz-Carlton, Lake Tahoe (2017 - 2018) ENGAGE Art Fair in the Napa Valley, The Glashoff Sculpture Ranch, Fairfield, CA, in Berkeley, CA at the Collector Gallery, Jack London Square in Oakland, CA, Studio Gallery in San Francisco, CA, during my artist residency at Brush Creek Arts Foundation in Saratoga, WY, Palm Desert Community Gallery, Palm Desert, CA, Turtle Bay Museum in Redding, CA, Yosemite Museum in Yosemite National Park, CA, Nichols Gallery in Taos, NM, Tubac Center for the Arts, Tubac, AZ. My artwork has been included in the Collections of the National Parks Service, Yolo Arts Council, in private collections in the U.S.and internationally.

I have shown in more than 50 juried exhibits including three museum exhibits, in California, national juried exhibits in Arizona, New Mexico, Texas and Wyoming. A full resume can be viewed on the Resume page found on my website.



Recent Activity