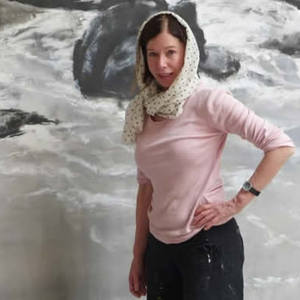 Follow
Claudia Bormann
Ratzeburg, Schleswig-Holstein, Germany
Education:
I studied at the Academy of Fine Arts in Stuttgart (painting and set design)
I studied at the University in Stuttgart
(art history and german literature)

1976-1982 Studium Staatliche Akademie der Bildenden Künste, Stuttgart (Malerei, Bühnenbild)
1976-1980 Studium an der Universität Stuttgart (Literatur, Kunstgeschichte)
Preise:
1. Preis Akademiewettbewerb, Kunstakademie Stuttgart
3. Preis Kunst am Basu, Uniklinik Heidelberg
1987-1989 Atelierstipendium des Landes Baden-Württemberg
Events:
2018
"Alles fließt"
Galerie im Elysee
Hamburg

2017
"Publikumspreis"
BBK-Landesschau
Stadtgalerie Kiel

Juni 2016
"Kunst im Dialog"
Museum, Behnhaus Lübeck

April 2016
"Artist of the month"
Sparkassenstiftung Schleswig-Holstein
Museums of Schleswig-Holstein

6.9.2015
"Artist of the day" saatchi art

29.8.2015
Iceland- livestream
Performance (Iceland/Artist in Residency to Germany, Kulturraum, Lübeck)

11./12.7.2015
offenes Atelier
for more infos see my web-presentation
www.claudia-bormann.de

Referenzen, Werke in öffentlichem Besitz:
Land Baden-Württemberg
Wertheimer Museum
Nordkirche, Lübeck
Sammlung der HSH Nordbank
Sammlung der Sparkassenstiftung, Kiel
Berufsschulen, Dänemark



Exhibitions:
Einzelausstellungen (Auswahl)

2018 "Alles fließt" Galerie im Elysee, Hamburg
2017 "Zeit im Fluss" Kunstkreis Preetz
2015 "Malerei und Zeichnung" Kulturraum, Lübeck
2014 "Reisebilder" Galerie Müller und Petzinna
2013 "Lebenszeichen" Galerie per-seh Hannover
2013 "Natur" Schaalsee-Galerie Dargow
2012 "Work in Progress" Cape Town joule city
2011 "Verwehte Orte" Kunst+Co Flensburg
2010 "Landschaften" Möllner Museum
2009 "Mimikry" Ostholstein-Museum, Eutin
2009 Kunsthaus Müllers
2008 "Naturstücke" Sparkassenstiftung, Kiel
2008 "Menschenleer" Galerie Stückers, Brunsbüttel
2008 "Seestücke" Hafenmuseum Bremen
2008 "Naturstücke" Galerie im Wilhelminenhaus, Kiel
2007 "Landschaften" Wertheimer Museum, Otto-
Modersohn-Kabinett
2006 "Paradiese" Kreismuseum Herzogtum Lauenburg
2006 "Landschaften" Museum Mentzendorffhaus, Riga


Gruppenausstellungen (Auswahl)

2014 "Grenzlandausstellung" Aabenraa (DK)
2013 "...bewegt" Kunst in der Sparkassenstiftung S-H,
Kiel
2012 "Kunst-Landschaft-Mölln" Möllner Museum
2011 "Von Wegen" ARS Schwarzenbek
2011 "Grenzlandausstellung" Aabenraa (DK)
2010 "Verwehte Orte" Landesmuseum Schloss Gottorf
2009 "Nordschau" Einblicke in die Kunstsammlung der
HSH Nordbank, Hamburg
2008 "Wasserwerke" Galerie per-seh Hannover
2008 NORD ART Büdelsdorf
2006 NORD ART Büdelsdorf
seit 1997 regelmäßige Teilnahme an den jurierten Jahresschauen der Lübecker Künstler
seit 1996 regelmäßige Teilnahme an den jurierten Landesschauen (Kunsthalle, Kiel-Landesmuseum Schloss Gottotf-Ostholstein-Museum, Eutin-Barlach-Museum, Wedel-Museumsberg, Flensburg u.a.





Recent Activity