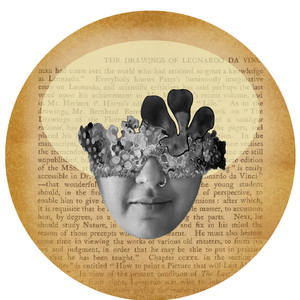 Follow
Malaraj Srivastava
New Delhi, Delhi, India
About Malaraj Srivastava
My name is Mala Raj Srivastava . I was born in the holy city named Varanasi. According to ancient history, Varanasi was founded by Lord Shiva. In the Rigveda this city is reffered as the name "Kashi", this name is mentioned in Skanda Purana , where in one verse: Lord Shiva says " the three world form one city of mine, and Kashi is my Royal palace therein. Along with this my city is big centre of Artistic activities, it is famous for weaving muslin and silk fabrics, and these activities I always saw in my childhood which left obvious effect on me, so these " Alankar" I use in my works always…. Secondly Kashi is big centre of music activities, Padamvibhushan Kishan Maharaj, Ustad Bismillah Khan, Pandit Samta Prasad , Bharat Ratna Pandit Ravi Shankar these all big names belong to Varanasi, so my childhood was spent among the laps of these great people. As I was fortunate of being the daughter of Pandit Kishan Maharaj ,I was having very keen intrest towards music and paintings as well from my childhood, because so many painters use to come at my place to create lots of different art at my home too. My father was also a great painter, sculptor and musician, infact he was an all time jack person in many field, so I was influenced with his personality badly and I tried to copy him as much I could from that time specially in art and all those great artists who created different art pieces in front of my infant mind they left over their impression too. Nowadays I live in Delhi , capitol town of India, which is a big centre of every artistict activities of every field. I get opportunity here to visit museums, theater, historical monuments and music concerts to fulfill my hunger of Art. I feel that my art is totally inclined towards contemporary conceptual topic with an effect of all this vast and modern exposer. I have a very supportive family including my daughter ,son in law, husband,and close relatives, they all encourage me to go ahead in my field , but above all support of my husband only helped me to complete my B.F.A. and M.F.A. regularly even after marriage. My hubby leave me free to create my conceptual art , which is not at all made by any commercial interest but in-spite of this he wants me to grow or fly as I want to ….I feel that this makes a lot of difference in my creativity because I have not any boundary line. As Aristotle says " The aim of art is to represent not the outward appearance of things, but their inward significance" this quote touched my heart a lot and I started to practice that art , which is not only a pleasure but it can be used as an eye opener or social messenger, and I decided to create my art with a serious subject.Human mind is plagued by an idealization, the eyes afflicted with an ailment, trains itself to spot an universally accepted trade marker of beauty and glamour in women specially. With this ideology human seeks uniformity and permanence in our traditional version of the ideal,denying any scopes for any evolution or deformities. They forget that real beauty lies within the soul or body. I chose Women Organ to depict in my works and put them as a focus with their real texture, beauty and virtue. I use bone, nerves , brain, heart, muscles as an eternal virtue of being. In my works SHAKTI (PRAKRITI) symbolizes the feminine principle, the activating power and energy in the form of organs or physical elements and SHIVA(PURUSHA) as a jewel which according to Hindu Philosophy is personified in all aspects of life. My paintings and mixed media work endeavor to capture the yin and yang of life. It does not directly speak of the beauty of the feminine form rather speaks in evoking symbols like the eye of truth, womb-like structures or plant-like forms that abound with fertility symbols. My work is a good investment since i am on my way to becoming an established artist but my artworks prices are still very accessible."
Education:
2011- Master of Fine Arts (Painting) Indira Kala Sangit Vishwavidyalaya, Khairagarh (C.G.)By Tecnia Institute of Art & Design, New Delhi.

2009 - Bachelor of Fine Arts (Painting) Indira Kala SangitVishwavidyalaya, Khairagarh (C.G.) By Tecnia Institute of Art & Design, New Delhi.

1984 - Bachelor Of Arts from Mahatma Gandhi KashiVidya Pith University , Varanasi
Events:
(Gold Medalist for BFA and scholarship for MFA) from TIAD New Delhi.

2010 - Honoured with the 2nd prize (above 30) in a national level painting competition held by IndraPrastha Gallery at ICCR, Delhi.

2010-2009 - 1st prize by LatikaKatt in Category of Best Work of the Annual Exhibition of TIAD, New Delhi.

2009-2008 - 1st prize by Anita Dube in Category of Best Work of the Annual Exhibition of TIAD, New Delhi.

2008-2007 Honoured with the titles of 'Best Student of the year' of TIAD, New Delhi 2007 Won Kala Shrishti Award, New Delhi.
Exhibitions:
Upcoming Solo Show curated by Georgina Maddox due in Lalit Kala Akademi Delhi March 2018.
Participation in World Art Dubai 2017 at Booth # A 54 with ICAC Gallery based in Mumbai by Ravindra Mardia.
Participation- A group show Splendor (2016) by Art Glane at Hungarian Information and Cultural Centre, NEW DELHI.
2016 - Participation ( SOLO )BOOTH NO. 13, India Art Festival Delhi edition at National stadium.
Participation (Group Exhibitions)
2016 - " Black" India Art Festival Mumbai at Nehru Centre.
2016 - " Anantyatra " curated by Manjula Singh at Visual Art Gallery, Delhi.
2016 -" silent talk " group show at lalitkala Academy, Lucknow.
2016 - " India Art Festival " at Delhi.
2016 - " Harmony" curated by Manjeetkaur at GALAXY HOTEL & SPA , Gurgaon.
2015 - Art Family show 'Life on Wings' held at Jehangir Art Gallery, Mumbai.
2014 - The Show" Fragrance of Life" for raising the donation for flood victims of J&K in Gallery Defence, Delhi.
2014 - 'Aesthetic Conscience' an Art Show in Studio 55, Delhi.
2014 - National Exhibition, Lalit Kala Academy, Amritsar.
2014 - Group Show " Hanging Thoughts" Lalit Kala Academy, Lucknow.
2012 - Group show 'Confabulation' held at Lalit Kala Akademy, New Delhi.
2012 - An International group show 'Life on Wall' at Kolkata Birla Academy by S. A. JAFAR, Kolkata.
2011 - Group show 'Transformations' at M. F. Hussain Gallery, Jamia Millia Islamia curated by students of Art History Deptt.
2011 - Group show at Lokayata Art Gallery, Hauz Khas Village, New Delhi.
2010 - Group show at ICCR, New Delhi.
2010 - Work selected in Lalit Kala Academy Triennale exhibition, Uttar Pradesh.
2010 - Work selected in 82nd Annual exhibition of AIFACS, Delhi.
2010 - Group show at IndraPrastha Gallery, New Delhi.
2010-2007 - 'Srijan' Annual Exhibitions of Tecnia Institute of Art & Design, New Delhi.
2008 - Group show at All India Fine Arts & Crafts Society, New Delhi.
2006- Participated in 'Tapasya' state-level art competition, New Delhi.
Recent Activity