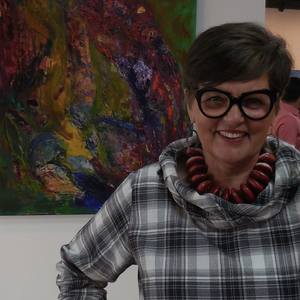 Follow
MarianneB van der Haar
Atlanta, GA, United States
About MarianneB van der Haar
Having lived in different countries of the world, I have been enriched by various cultures that are informing the way I create my art. As I apply layers upon layers of boldly colored paint on the canvas, I use a palette knife and my fingers to shape each piece as a unique expression of my life experiences. My German heritage gave me discipline and a sense of purpose. When I was 21, I moved to the Netherlands to learn the Dutch language and liberal way of life. During the late 1970s, my husband and I lived in Tanzania for 4 years, where I was enlivened by the richness of the African art, from the way they used found items to make toys and tools, to their intricate wood sculptures and colorful batik fabrics. Going on safari in the African savannah also made life-long impressions on my love for plants and wildlife. After returning to the Netherlands to raise a family in the 1980s, I pursued a career in interior design that taught me to appreciate aesthetic arrangements of colors in fabric and furniture. I started painting in the year 2000 when a new life in Atlanta encouraged me to pick up a set of acrylics. Instantly, I found my love of composing colorful works of art on large canvases. I am purely self-taught, and as I have grown as an artist, my supply cabinet has expanded to include not only acrylics, but also materials such as ink, sand, metal powders, and textiles. My creative style ranges from purely abstract — with pieces that evoke an emotion — to works that include flowers or figures that offer an abstract, but slightly more concrete vision of what I sense from the world, the environment, and the seasons. I am particularly known for my color flow, but every time I work with my tools of choice—whether they are brushes, plastic cards, scrapers, palate knives, or simply my fingers—the result is always a new artistic surprise. My work can be seen in galleries around Atlanta or by appointment (see my webpage for current exhibits). I received a first prize in abstract painting at the Ocala Fine Art Show in 2007. Online, one of my paintings received the Masterpiece Elite San Francisco award for 2008/2009. Since 2014, my art has been selected each year to be included in the American Art Collector. In addition to creating art for display in homes and galleries, I also teach personalized, small-group classes for both adults and children at my home studio. You can learn more about my work by contacting me at artist@mariannebpaintings.com  My work can be seen in many different galleries and expositions in Alabama, Colorado, Georgia, Florida, Nevada, North Carolina, Virginia, Washington DC, The Netherlands, Germany, India, Singapore and Majorca, Romania.
Education:
Educated in Germany/ the Netherlands: Interior design!
Moved to Atlanta and started to paint!
I describe myself as a self-taught painter.
Events:
Dogwoodcityartgallery, Talapoosa GA
Solo Show:
Alternative Realities: From concert to Abstract
September 2, 2017 through October 31,2017
American Artwork 2018
Abstraction The Artist's view , November3 - January25 2018
Exhibitions:
Raiford Gallery, Roswell GA
Bocroom, Atlanta GA
Dogwoodcityartgallery, Talapoosa GA
Embler Gallery, Miami FL
Chuptrine Gallery, Highland NC
Recent Activity