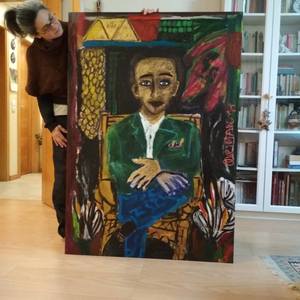 Follow
Sónia Queimado Lima
Ericeira, ERICEIRA, Portugal
About Sónia Queimado Lima
I m temperamental and emotional. I love to break the rules and build new ideias, new ways to improve life. Art is my passion and spirit. I made my path. Born in Africa, still alive.
Education:
IAO - Instituto de Artes e Ofícios da Fundação Ricardo Espírito Santo e Silva - FRESS

I worked in publishing. Editorial and in two daily newspapers.
Now i work as a painter, a creative mum.



Events:
2019 Next exhibition Gothenburg
March 22th .

2018 November "De Cor" - LISBOA
13/26 NOVEMBER 2018

http://www.saatchiart.com/art-collection/Painting-Photography-Drawing/Bright-and-Bold-Original-Works-for-Under-500/782019/103869/view

http://www.saatchiart.com/art-collection/Painting-Photography-Printmaking/Bright-Bold-Originals-for-500-or-Less/2/104092/view

Untitled Number - Espaço Pétaouchnock, Ler Devagar, LX Factory, Lisboa Janeiro 2015

Retratos Infiéis e um Cisne - Casa de Cultura da Malveira, Mafra 2014

Jovem Aposta em Ti - 2.ª edição, Amadora 2006

Mascararte Bragança - Máscara Angolana, 2005

Bienal de Coruche - Salão de Artes Plásticas 2005
"Há tanta suavidade em nada dizer/ E tudo se entender."
Fernando Pessoa
Exhibitions:
Exhibition in November 2018 "De Cor"

"Womanidade" Exposição de Pintura - Setembro/Outubro - Lisboa 2016 CML Câmara Municipal de Lisboa

"Pianissíssimo" - Pinturas para um Piano -

Conservatório de Música de Lisboa 2016
http://www.aaemcn.pt/pianississimo/

Mensagem de Fernando Pessoa por 24 artistas plásticos - Casa dos Cubos - Tomar
Março 2016

Untitled Number - Espaço Pétaouchnock, Ler Devagar, LX Factory, Lisboa Janeiro 2015

Retratos Infiéis e um Cisne - Casa de Cultura da Malveira, Mafra
2014

Jovem Aposta em Ti - 2.ª edição, Amadora 2006

Mascararte Bragança - Máscara Angolana, 2005

Bienal de Coruche - Salão de Artes Plásticas 2005
Recent Activity