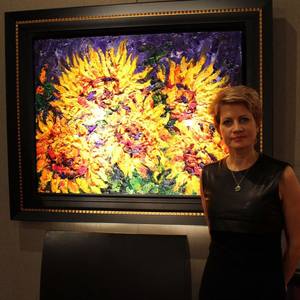 Follow
Rasa Kluonius
Chicago, IL, United States
About Rasa Kluonius
I was born across the Atlantic, in Lithuania. I was raised in Vilnius, the capital and the heart of Lithuania's culture and art. The surf of the waves from the Baltic Sea has flooded my heart with passion for life and art...I started painting even before I took my first steps...I live in Chicago since 2001. I was an artist in residence exclusively represented by Hilligoss Galleries located on Magnificent Mile in Chicago for seven years, where I was a top-selling artist. I work primarily in oils, utilizing thick strokes to create art that blurs the line between abstract and realism. The inspiration for my work comes from nature, the landscape (both urban and country), and in the human figure. In my work I like to capture the mundane and the extraordinary. From the simple grouping of flowers in a vase to vibrant cityscapes I create work that is both real and imagined to convey a general feeling or thought rather than something specific or concrete. I developed a wide range of clientele spanning across the US and reaching out to countries throughout the world...
Education:
My education in art began at the first grade of the Art School for gifted children in 1972 and continued at the Lithuanian State Academy of Fine Arts, where I took five years degree in 1988.
Events:
You can see me painting there at the end of the video. The music in the video was written by a young composer, which was inspired by my sunflower collection.
http://www.youtube.com/watch?v=0uUJ94McNSg

Exhibitions:
2004 Group show at Landmark Arts Gallery in Chicago, IL
2005 Solo at Blueraven Gallery in Wauconda, IL
2005-2007 Gallery Art Studio R (Personally Owned) in Long Grove, IL
2007-2009 Group shows at the Studio of Long Grove and Hilligoss Galleries on Chicago's Magnificent Mile, Chicago, IL
2011 Sunflower Collection show at Hilligoss Galleries, Chicago, IL
2013 International Antiques and Art Fair, the Merchandise Mart, Chicago, IL
2013-present- Hildt Galleries in the Drake Hotel.
Recent Activity