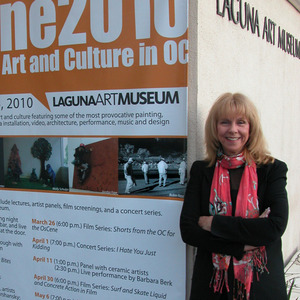 Follow
Robin Repp
Huntington Beach, CA, United States
About Robin Repp
My work explores the relationship between fear and anticipation, of the future or the unknown. With influences as diverse as Thomas Struth, Dorthea Lange, Elmer Bischoff, and Minor White, I have been using infrared photography, the concept of the figure in the landscape and social commentary topics to tell my story. Ever since I was a graduate school art student in Berkeley, I have been fascinated by protest and social issues set in the landscape. What starts out as simple white figures against a dark background, leaves the viewer with a sense of dreamlike questioning. Who are these faceless people and what is going on here? This current work portrays the emotion of anticipation in the landscape. Sometimes the human figure is included in the image as a central theme to visual anxiety. Questions of what's next or what's out there come to mind. It is the human condition to always be waiting and anticipating our future. The use of black and white Infrared photography suggests a surrealistic and dream like future state. To complete this sense of the unknown, infrared wavelengths of light are not visible to the human eye, but can be captured in photography with altered sensors and filters.
Education:
EDUCATION
M.A., Candidate, University of California, Berkeley
B.A., University of California, Berkeley

Events:
Art as Protest, Group Show, Orange County Center for Contemporary Art, Santa Ana, Ca. Opening June 3, 2017 6-10 pm.


Exhibitions:
Art as Protest, Group Show, Orange County Center for Contemporary Art, 2017

Selective Memory, Solo Exhibition, OCCCA, Santa Ana, Ca. 2017

Use it Up, Wear it Out, Make it Do… Jewett Gallery, San Francisco, 2017

You Say You Want a Revolution?, Records and Rebels 1966-1970, Curated by Victoria Broakes , Victoria and Albert Museum, London, U.K., 2017

Collector's Choice, Channel Islands Studios, Camarillo, Ca. 2016

11x11, Square I Gallery, Claremont, Ca 2016

Huahine Series, Infrared Photography, Paradigm Gallery, Santa Ana,Ca 2016

ArtStart, OCCCA, Santa Ana, Ca. 2016

Airborne, Worth Ryder Gallery, UC Berkeley, Ca, 2016

XPhotoX, Orange County Center for Contemporary Art, 2016

America in Revolt, Shapiro Modern, Barry Miles,curator, London, England, 2016

Smaller Footprints, Robert Benitez, & Linda Weintraub, curators, MOAH, Lancaster, Ca. 2016

Generations: 40 Hues between Black and White, James Dinh, curator, OCCCA, 2015

11x11 Group Exhibition, Square i Gallery, Claremont, Ca. 2015

Fashionistas Fight Back, Shana Nys Dambrot, curator, OCCCA, 2015

Moist, Ginger Shulick Porcella, Curator, OCCCA, 2015

The Art of Stem Cells, OCCCA, Santa Ana, Ca Sept. 6-Oct 10, 2014.

Home, VAALA, Santa Ana, Ca.2014,
Home, OCCCA, 2014,
Solo Exhibition Square i Gallery, Claremont, Ca, Mar. 2014,
Zocolo, Santa Ana, Nov 7, 2013,
The Search, inspired by Jet Propulsion Laboratory, Orange County Center for Contemporary Art, opening Dec 7, 2013,
Give Your Best Shot, Curator, Jeff Alu,Orange County Center for Contemporary Art, 2013,
Square i Gallery, Claremont, May 2012,
Random Acts of Time, Curator, Bill Moreno, 2012,
Open Dialogues Artist in Residency at Huntington Beach Art Center March 1- April 9, 2011.Past shows:Centered on the Center, Huntington Beach Art Center, Jan 21, 6pm-9pm opening, Beauty, OC Center for Contemporary Art, May 1,2010 6-9 pmHuntington Beach Art Center, June 4, 20106-9 pmOscene, Laguna Art Museum, opening Feb.21,- May 15, 2010Centered Photography 2010,
Recent Activity