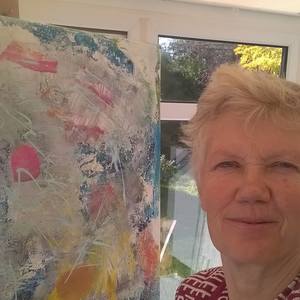 Follow
Sarah Stokes
Margate, Kent, United Kingdom
About Sarah Stokes
Hello and thank you for visiting my art gallery! Which way round does it go and is it finished?, am I happy with the piece are my benchmark companions as i express energy with mark making! Intuitively every picture tells a story! Creativity explores our humanity in all its many facets bringing together and sharing a universal compassionate energy. My pieces are intuitive energy and I like to call them stroyscapes or freescapes- letting the energy out in an improvisatory fashion! Currently based in East Kent, I work mainly with acrylics, ink, charcoal, occasionally oil, and smaller acetate pieces, which are very gestural. I also undertake larger abstractive commissions and take photos and songwrite. Exhibitions across the UK include Salisbury, Lymington, London and Kettering and widely in Kent, and I now have clients across Europe and in the USA.
Education:
Self taught i loved drawing and painting and doodling as a child. However I pursued science and journalism,
moved to London and made some good friends and began practising Buddhism with SGI a process of human revolution- inner transformation.
I keep transforming anger into courage, giving me hope and expanding my heart.

I realised I was an artist! A musical one haha!
And a big learning ground was having the opportunity to look at a lot of arthouse catalogues. The paintings inspired and encouraged me.
I'd always been creative and
composed songs to make sense of life, to keep moving forward!
Through perseverance
I have the courage and confidence to
play until I feel happy with my work.








Events:
Currently at;

New Kent Gallery Broadstairs

Smallhythe studio permanent collection TN30 7NB


Exhibitions:
Exhibitions include;
Skylark Gallery 2 London SE1,
Redgate Camberwell,
Salisbury Playhouse,
Alfred East, Kettering,
Artsway, Lymington,
Not the Royal Academy,
Castle Arts now Lilford Gallery, Canterbury,
Corkstreetopen,
Cristus-gallery,Sandgate,
Piefactory & Harbour arm Margate,
Horsebridge and Fishslab Gallery Whitstable
Smallhythe studios nr Tenterden.
York Street Gallery Ramsgate
New Kent Art Gallery, Broadstairs
Murmurations, Bexhill





Recent Activity