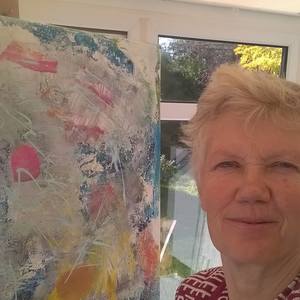 Follow
Sarah Stokes
Margate, Kent, United Kingdom
About Sarah Stokes
Hello and welcome to my artworks! I am a musical artist who paints in an intuitive and improvisatory fashion. I love the immediacy and physicality of applying paint and making colours sing. i call them storyscapes or free scapes, full of life Usually i work with charcoal, oil, mainly acrylic and ink and some acetate pieces are works in spontaneous and playful progress. I also love the apparent randomness of abstract photos which are being developed, as well as working on some songs and a musical piece 'finding a voice'. Currently I live in East Kent near the sea and have exhibited mainly in London and Kent and i have pieces in private collections across Europe and in the USA.
Education:
Self expressing i had the opportunity to study a lot of arthouse catalogues which encouraged and inspired me.
I love allowing the colour and energy to communicate feelings and life states with the viewer.







Events:
Currently exhibiting;
New Kent Art Gallery Broadstairs
Betty Loves Bryan Whitstable

Upcoming
Pie Factory Margate August 2020

Smallhythe studio permanent collection TN30 7NB


Exhibitions:
Exhibitions include;

New Kent Art Broadstairs
Pie Factory Margate
Skylark Gallery 2 London SE1,
Redgate Camberwell,
Salisbury Playhouse,
Alfred East, Kettering,
Artsway, Lymington,
Not the Royal Academy,
Castle Arts now Lilford Gallery, Canterbury,
Corkstreetopen,
Cristus-gallery,Sandgate,
Horsebridge and Fishslab Gallery Whitstable
Smallhythe studios nr Tenterden.
York Street Gallery Ramsgate
Murmurations, Bexhill





Recent Activity