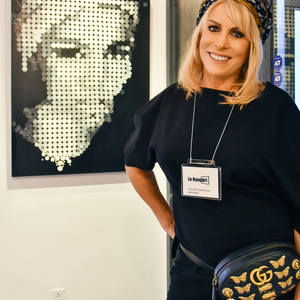 Follow
Sylvie Dagenais
Montreal, QC, Canada
About Sylvie Dagenais
Born in Montreal, Sylvie Dagenais (formerly known as Solo and Sylvia Dilore) travelled the world, building a collection of shapes, hues and images that inspire her to this day. Advocating rigour, reflection and research, for Sylvie, art and the individual are related, as they developed together. In its sense, the creation of a pictorial work relates to the composition of a musical piece. Sylvie disrupts the observer with a melody of colours and techniques, taking him on a voyage from one story to another. Shaking up our perceptions. Leading us to introspection. Changing the way we look at the world and people. Sylvie paints raw emotion, then shares it with sincerity. ------------------------------------------------ Née à Montréal, Sylvie Dagenais (anciennement connue sous le nom de Solo et Sylvia DiLore) a voyagé à travers le monde afin de se bâtir une collection de formes, teintes et images qui l'inspirent encore à ce jour. Prônant rigueur, réflexion et recherche, l'art et la personne sont pour elle liés, car c'est ensemble qu'ils se développent. À son sens, la création d'une oeuvre picturale se rapporte à la composition d'une pièce musicale. Elle berce l'observateur par la mélodie des couleurs et de la technique, pour l'amener à voyager d'une histoire à l'autre. Bousculer nos perceptions. Nous mener à l'introspection. Changer notre regard quant au monde et aux gens. Sylvie peint de l'émotion brute pour un partage authentique.
Education:
Master of Fine Arts (M.F.A.)
Fine/Studio Arts, General
Stage de perfectionnement à l'École nationale supérieure des beaux-arts de Paris.
Un Master of Fine Arts lui permet d'approfondir son art et sa technique.
Recent Activity