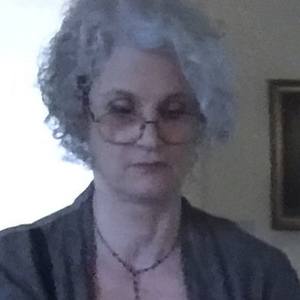 Follow
virginia bryant
Troy, NY, United States
About virginia bryant
I am a painter originally trained as a classical dancer. The physicality of this early training is the source of my painterly processes. The gestural orientation of my paintings are outgrowths of early ballet training and experience as a dancer, performer and choreographer. And so, in my painting the elements of dance, stage and music are congruent with the trio of movement in painting (dance), the painting plane, or surface (stage), and harmonic patterning (music). My painting practice first began in Eugene Oregon in 1971. I opened my first art studio in the early 80's in San Francisco.
Education:
8 years ballet 74-82
17 years life drawing 74-91
1 year theatre arts 73
1 year drafting & color theory 81
Events:
This year I am honored to be the recipient of two awards for my painting, first from max's kansas city and then from the Haven Foundation. Also this year my paintings, forty of them executed this year, were shown in two solo shows, first Fugue States in Troy NY and then Fugues & Preludes, Eclipse Mill Gallery, North Adams MA.
Exhibitions:
Selected Solo Exhibitions
2019 Fugues & Preludes, North Adams MA
2019 Fugue States, CC&C, Troy New York
2017 Victorian Abstraction, Curator Jim Lewis, Carmen's Cafe, Troy New York
2016 To the North, St Thomas Aquinas College, Sparkill New York
2008 Clouds of Unknowing, Art Project Studio Show, Naples Florida
2003 New Works on Paper, Bay Front Center, Naples Florida
2001 Winter Paintings, Art Projects, Naples Florida
2001 Time and Evaporation, Art Projects, Naples Florida
2000 Painter's Progress, Florida Gulf Coast University, Fort Myers Florida
1999 Ten Year Survey, Eden Park Gallery, Naples Florida
1998, 1997, 1996 West Wing Art Projects, Naples Florida
1997 Classical Abstraction, Sage Art Salon, Miami Florida
1992 Art of the 21rst Century, Naples Florida

Selected Group Exhibitions
2017 Winter Salon, Scarlett Seven, Troy New York
2016 Great Places and Spaces, Albany State Museum, Albany New York
2015 Lake 10, Openings in St Paul the Apostle, New York New York
2014 Florida Contemporary, Baker-Artis Museum of Art, Naples Florida
2011, 2011 Incognito, Baker-Artis Museum of Art, Naples Florida
2004 Aspirants, Shamans & Mentors, Art Projects, Naples Florida
2003 FGCU First Five Years, Florida Gulf Coast University Gallery, Fort Myers Florida
2001 Winter Paintings, Art Projects, Naples Florida
2001, 2000, 1999 Art Encounter, von Liebig Art Center, Neapels Florida
1999 A Sense of Place, Atlantic Center for the Arts, Smyrna Beach Florida
1998 ANA 27 Holter Museum, Helena Montana
1995 Organic Abstraction, Watching Art Center, Plainfield NJ
1992 Black & Blue, Avalon, New Orleans LA
1991 Structures- Draper & Bryant, Heller Schaeffer Gallery, New Orleans LA
1991 Spirituality in Contemporary Art, Louisiana State University, New Orleans LA
1990 Love & Death in Art, Downtown Gallery, New Orleans LA

Recent Activity