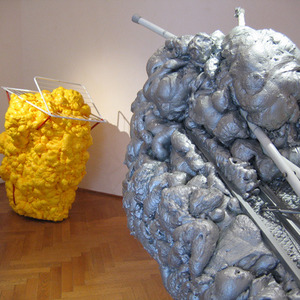 Follow
Wilhelm Roseneder
Vienna, Austria
About Wilhelm Roseneder
Vienna, Austria Painting, sculpture, installation, graphic, drawing, street art, video, photography, object
Education:
University of Vienna/Austria
Events:
CONTEMPORARY VENICE 2016 – It's LIQUID International Art Show. Palazzo Flangini, Venice, Italy 16.12.2016-15.01.2017
2016 UAMO-International City tour and Festival for contemporary art. Munich, Germany 28.4.-1.5.
2015 Fortress. egger roseneder contemporary/Uamo city tour. Vienna, Austria 23.10.-2.12.
2015 Ultima Edizione. Artfarm Pilastro. Pilastro di Bonavigo. Verona, Italy 26.-29.6.
2015 Perception. egger roseneder contemporary. Vienna, Austria 10.6-13.6.
Exhibitions:
EXHIBITIONS
2016 UAMO-International City tour and Festival for contemporary art. Munich, Germany
2015 Fortress. egger roseneder contemporary
/International Uamo city tour. Vienna, Austria
2015 Ultima Edizione. Artfarm Pilastro. Pilastro di Bonavigo, VR, Italy
2014 Highlike. FILE – Electronic Language International Festival and SESI
2012/2013 Schnittpunkt Burgenland.Landesgalerie Burgenland. Eisenstadt, Austria
2012 Trans Pulmina. Artfarm Pilastro. Pilastro di Bonavigo, Verona, Italy
2012 Colour. egger roseneder contemporary. Vienna, Austria
2012 FAcES. Portraitkunst. Burgenländische Landesgalerie. Eisenstadt, Austria
2011 Artist in Residence. Paliano. Domus Artium. Azienda Agricola Colonna. Paliano, Italy
2011 Renate Egger und Wilhelm Roseneder. Goldene Erweiterung/Golden expansion. Street art project. Rome, Italy
2011 Drawing Connections. Siena Art Institute. Siena, I
2011 M´illumino D´immenso. Artfarm No. 10. Pilastro Artfarm. Pilastro di Bonavigo, Verona, Italy
2011 Renate Egger und Wilhelm Roseneder. Street art project. Goldene Erweiterung/Golden expansion. ARTOUR-0 in Florence, Italy.
2010 Renate Egger und Wilhelm Roseneder. Goldene Erweiterung/olden expansion. Street art project. London, GB
2010 Wilhelm Roseneder. a show of new sculpture. Wiebke Morgan Gallery, London, GB
2010 Wilhelm Roseneder. "Rote Invasion". Festimage, Chaves, Portugal
2010 "Kunstgriffe", Jambiani, Zanzibar, Tanzania, Africa
2010 The Pilot Report. PILOT:London, Just Mad. Madrid, Spain
2009 Structure. egger roseneder contemporary, Vienna, Austria
2009 Wilhelm Roseneder "expansions", Renate Egger "Paradies", egger roseneder contemporary, Vienna, Austria
2009 Wilhelm Roseneder. Permanent Installation "Orange expansion", Klosterneuburg, Niederösterreich, Austria
2007 Wilhelm Roseneder "Erweiterungen", Renate Egger "Fotografisches Stillleben". Österreichisches Kulturforum, Bratislava, Slovakia
2006 Wilhelm Roseneder "Ekspanzija". Galerija PeF, Faculty of Fine Arts Education, Ljubljana, Slovenia
2006 Wilhelm Roseneder. "Items". Galerija Srecisce, Celica, Ljubljana, Slovenia
2006 "Pura Immagine/Immagine pura". Pilastro Artfarm, Pilastro di Bonavigo, Verona, Italy
2005 "Facts & Visions". Erbsenschälfabrik, Bruckneudorf/Bgld. Austria
2005 "IstintiDistinti". Artfarm Pilastro, Pilastro di Bonavigo, Verona, Italy
2004 "Künstlerische Grafik/Südtirol-Burgenland", Galerie Prisma, Bozen, Italy
2004"Grafics", Burgenländische Landesgalerie, Eisenstadt, Austria
2004 "Lust am Text", Landesgalerie Burgenland, Eisenstadt, Austria
2003 Wilhelm Roseneder. "Green, blue, yellow". Wiebke Morgan Gallery, London, UK
2002 "1 von 9. Kunst aus dem Burgenland". Museum auf Abruf, Vienna, Austria
1998 silberkar `98. Bank Austria-Skulpturenpreis Silberkar-Klamm in der Ramsau am Dachstein, Austria
1996 Wilhelm Roseneder. "Grundfarben-Grundthemen", Galerie Inge Freund, Klagenfurt, Austria
1996 "Die Außenwelt der Innenwelt der Außenwelt", Depot, Messepalast/Museumsquartier, Vienna, Austria
1995 "Plastik Akut IV", Landesgalerie Kärnten, Klagenfurt, Austria
1995 Kunst nach 1945, Kloster Marienberg, Burgenland, Austria
1994 Neue Malerei aus dem Burgenland, Bayreuth, Germany
1994 Festspielhaus Bregenz, Austria
1994 Galerie Inge Freund, 10 Jahre, Klagenfurt, Austria
1994 "Kunstflug Part II", Kunsthof-Eisenhof, Wien, Austria
1994 "Letters of fear", Burgenland, Austria
1994 "Die österreichische Wirtschaft im Spiegel der bildenden Kunst", trend art spectrum, Vienna, Austria
1993 Galerie Krinzinger (Sheba, Kunst & Katze), Vienna, Austria
1991 Wilhelm Roseneder. "Inspiration". Arbeiten auf Paraffinpapier. NÖLandesmuseum, Vienna, Austria
1990 Wilhelm Roseneder. "In tradition", Options Gallery, San Diego, USA
1989 "TRI-ART-LON", Landesgalerie im Schloß Esterházy, Eisenstadt, Austria
1988 JUNK´88 – unter 35. Junge Kunst in Niederösterreich. Karmeliterkirche, Wr. Neustadt, Austria
1986 "Wohnhaft:Eisenstadt", Galerie bei den Minoriten, Graz, Austria
1986 "Kunstorangen", Orangerie Schloß Esterhàzy, Eisenstadt, Austria
Recent Activity