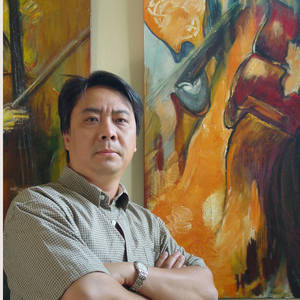 Follow
Yuming Zhu
Woodinville, WA, United States
About Yuming Zhu
Originally from Shanghai, China, Yuming Zhu began to study under painting masters at the age of ten. He blends the styles of the East and West into his oil, pastel and Sumi watercolor paintings. Capturing the light and darkness of the European masters while combining the familiar and textured brush strokes found in Sumi watercolors, Yuming finds that his art keeps him "spiritually wealthy and healthy". He held several solo and group exhibitions in California and Seattle area. He also teaches in community colleges and is an active member in several artists' associations in the area. He was invited to demo Chinese painting for the tape "Five Thoughts of Asian Art" by Seattle Art Museum and KCTS channel 9. Yuming describes his style as "Transism" -- Lyrical Impression and Idealistic Expression, through which he portrays the beauty of our spiritual and earthly world by creating a language of emotional expression. With emphasis on painting inner-world landscape, Yuming still enjoys going out to paint En Plein Air.
Education:
BA in China, Shanghai
MA in Sonoma State University, CA, USA

Art Instructor at Bellevue College, WA USA
Events:
Participated as an artist and sign writer for the Amazon Series "The Man In The High Castle".

Seattle Art Museum, "Five Thoughts of Asian Art".
Exhibitions:
Debut Show at Sonoma State University, 1990
Solo Art Exhibition at Asian Resource Gallery, Oakland, CA 1991
Three Man Show at Pioneer Square Galleries, Seattle WA 1996-1997
Governor's Show at State Capital, Olympia, WA 1997
Three Man Show at Art Concept, Kirkland WA 1999-2001
Art Shows at Gallery By The Bay, Stanwood, WA 2006-2007
Solo Art Show at Solovei art Gallery, Everett WA 2007-2010
Solo Show at Astoria Fine Art Gallery, Astoria, OR 2010
Solo And Group Show at Paragon Arts Gallery, Woodinville WA 2011-2016

Recent Activity