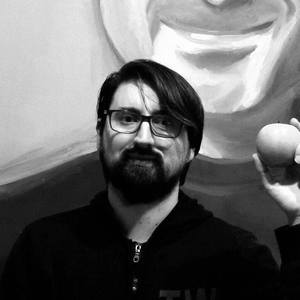 Follow
Dejan Zivkovic
Novi Sad, Vojvodina, Serbia
About Dejan Zivkovic
I'm a visual artist primarily working as a painter who treats paradoxical phenomena of the modern age with irony, absurd and grotesque. Presenting them from the unusual viewpoint of observation, my ambition is to show these seemingly positive and harmless actors in a different light, exposing negative, dark and primitive side of them. Revealing hidden roles behind the curtain of appealing exterior, I'm facing with these surreal farcical characters, as well as myself, suggesting a change of personal and collective paradigms.
Exhibitions:
At the contest Young 2015, organized by Niš Art Foundation, he was included in the best Serbian artists up to 35 years old. This was followed by group exhibitions in:
- Niš (Serbia Gallery)
- Belgrade (Heritage House)

During the year 2016 he had solo exhibitions in:
- Belgrade (Big Gallery of KC Grad)
- Novi Sad (Youth Forum of KCNS)
- Pančevo (Gallery of Contemporary Art)

​In March 2018 he held an independent exhibition of large format drawings and prints exhibited in Gallery Ciglana, Belgrade, and in June participates in a group show at Dev9t festival on the same place.
Recent Activity