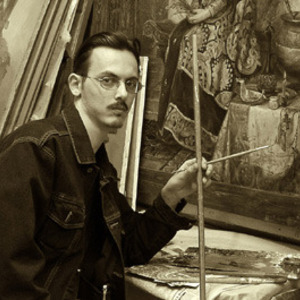 Follow
Dmitry Kostylew
Moscow
About Dmitry Kostylew
Born in 1976 in Izhevsk town (Russia)
Now live and work in Moscow .

"Creative work for me is an attempt to find answers to eternal questions of human existence... And turning to deserving and strong Personalities of the past and modern age - such as St. Metropolitan Peter of Moscow or Peter I, the Emperor of Russia and others - comes from the desire, by the examples of their lives, to get somewhat nearer to this Goal.

The landscape genre is interesting to me in a different way - through vivid impressions which are most often born in trips, and then these impressions simply call to be embodied on canvas. Examples of this are a number of landscapes of the Crimea or my series "Impressions from New-York", - the city, which struck me by a combination of magnificent architecture and as if intact nature.
When a painting is yet at the concept stage I try to see it at once in a frame - which for me is part of the general concept - and must help bring out the image...

That is exactly why for most of my paintings I invent original frames, which may be seen on the "Portrait of Evgeniya Smolyaninova", "Portrait of the Metropolitan Peter of Moscow" or on the series of landscapes of New-York...

Education:
Moscow Art Scool- 1986-1993
Russian Academy of Painting
Sculture and Architecture
(Portrait workshop)-1995-2001,
Recent Activity