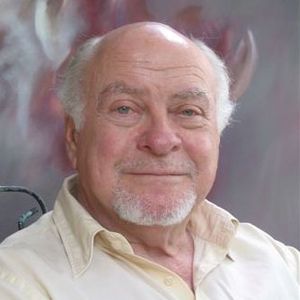 Follow
Alberto Montoreano
Buenos Aires, Argentina
About Alberto Montoreano
Alberto Montoreano, was born in Buenos Aires, Argentina. He lives and works in the district of Palermo, in Buenos Aires. As a successful photographer for many years, he discovered painting when he became closer to the school of abstract automatism in the 70's. Montoreano's work is about abandoning himself to his soul. He does his paintings being free with no previous thoughts when he starts a new work. He finds the images he uses in his spirit and he expects the audience to respond to them with their imagination and open mind. He has numerous rave critics, between them we can find: Jean-Paul Gavard-Perret, Master of Conference and Communication at the University of Savoy, France, and art critic, wrote in February 2010: ".. if we surrender to Montoreano paintings this will lead us to a source of pleasure and angst, to the joy of discovering figures that escape any objective of representative information"… "..he makes the lines and colors talk. Unconventional language pours into freedom and links the unfolded energy to telling stories from which nothing is known, except the axis of lives that can be guessed through the light". ARTisSpectrum (New York Magazine) Jun. 2011 Alberto Montoreano sculpts the space of his canvas with such skill and sensitivity that we find ourselves looking into his vaults of smoky open space with reverence and awe. Even when his work is abstract, we get a sense of vast dimensions. His landscapes are dreamlike and seem to be on the verge of melting into subconscious sensations. These ethereal shapes often transport us into a realm of dynamic abstractions. He is painting in a visual language that goes directly to our unconscious associations, and this, along with his skilled use of color to temper mood, invites us to explore the worlds the painting opens up in us. The artist's technique involves automatism, as he tries to activate specific sensory reactions in the brain. With this kind of exploration he develops new ways of highlighting daydreams, hopes, and fantasies so they can permeate his work. His technique yields stunning results: his clouds are at once powerful and delicate, evoking natural phenomena and also, more importantly, psychological or spiritual conditions. Alberto Montoreano is also highly spiritual. He considers the sky to be his wise teacher, and it is clear from his work that for him the sky is his muse and he takes possession of it, and claims it, as only an artist can. ARTisSpectrum (New York Magazine) Nov. 2011 "The sky is a wise teacher," says Alberto Montoreano. "Looking at it and appreciating it, we can detect in it the reflections of life." The painter has learned a lot from looking at and appreciating the sky, and has effectively employed what he has learned in his unique, dreamlike works. There is a strong feeling of air and space in these images. Clouds swirl through the air, or around seductively blurred landscapes. Montoreano is a master at using white paint in a variety of ways — to depict those clouds, to create a feeling of mist hanging in the air, or to infuse his paintings with light and dimension, giving the very atmosphere weight and form. But his strengths as a colorist are not limited to his handling of white paint. He has a strong grasp of how to use hues to punctuate his images, rendering bright blue flashes in an otherwise muted sky, or vibrant reds against a backdrop of subtly glowing browns. Montoreano also works the edges between representation and abstraction. Some of his images are almost photographic in their details, showing realistic skies and land formations. In others, ghostly beings wrapped in wisps will emerge from mysterious backgrounds.
Education:
LOVING THE SKY
The sky is a wise teacher. Looking at it and appreciating it, we can detect in it the reflections of life.
In the sky we see the different shapes and colors of conflicts, solutions, encounters and misunderstandings, passions, fears and joys, errors and insinuations. Also tremendous oneiric situations, abundant and fleeting shapes - but most of all: the presence of what is surprising and un-thought of.
Even if I tried hard, I would not be able to exclude the sky form my paintings. It just appears. Often times close to some of its habitual and various shapes, and others, pretending it is not there, though it is, as unimaginable insinuations those life usually imposes on us.

Alberto Montoreano


MY PAINTING "PLUS" MY SURPRISE
Painting is to me a great surprise. Once I start giving shape to images, I get enthusiastic, excited, surprised, and sometimes I even end up feeling moved. I speak of "surprise" because when I start painting I never know what may show up later. Very often, when I appraise a completed work, I feel relieved. Something that I had deep inside has just come out of me and on to the canvas or paper. Then, I can clearly visualize my joy or my loves. Other times I feel I got rid of some nightmare, some dream, some threat, some fear. When I watch the unplanned result, I feel a strong surprise. This surprise rests in me and represents my true pleasure.

Alberto Montoreano

Exhibitions:
Latest Exhibitions 2008/2014:

2008. "Daydream" Gallery Centoira, Buenos Aires, Argentine.

2009. "Divine Duality", Gallery Palermo H, Buenos Aires, Argentine.
"Loving the Sky". Schody Gallery, Warsaw, Poland.
"Castilla y León Pintan". Centro Cultural Borges. Buenos Aires, Argentina.
Arte Clásica. Buenos Aires. Argentine.
"The Reverie", Gallery Palermo H, Buenos Aires, Argentine.

2010. Cultural Center of Romance Languages, Switnik, Poland.
(Centrum Kultury Jezkow Romanskich, Switnik, Polska.)
Galerie Lina Davidov. Paris. France.
Arte Clásica. Buenos Aires. Argentine.

2011. Museum of the History of the Polish Peasant Movement.
Sandomierz, Poland.
(Muzeum Historii Polskiego Ruchu Ludowego. Sandomierz, Polska.)
"Masters of the Imagination". Agora Gallery, New York, USA.

2012. "Night of The Museums".
Culture and Conference Center. Warsaw, Poland.
(Noc Muzeów Centrum Kulturalno-Konferencyjnego.Warszawa, Polska)

2013. Selected on "The Night of The Museums",
Belgrano University. Buenos Aires, Argentina.

2014. Cultural Center "Saska Kepa".
Warsaw, Poland.

Recent Activity