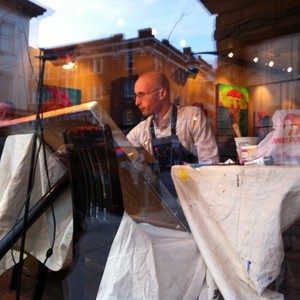 Follow
Cristian S Aluas
Las Vegas, NV, United States
About Cristian S Aluas
Cristian S. Aluas attended the prestigious Canterbury HS for the Arts, Algonquin College (excelling in Life Drawing), and Concordia University for Fine Art. Some of his artistic highlights are: "Big Portrait #1" (his first large scale masterpiece), and his two large oil paintings from his Golden Boy series, "Natural Freedom" and "Guardian Angel." Cristian also teaches art (at his school, Masterpiece Art School) and publishes his graphic novels (look for "Big Boss: Gun For Hire"). With some of his work in the MoMA (New York) and the Gallery of Canada (Ottawa), Cristian's illustrations and paintings have been evolving over the years into beautiful and thought-provoking works of art.
Education:
Canterbury High School (Ottawa)
Algonquin College (Ottawa)
Concordia University (Montreal)
Events:
Future Shows: Sammy Davis Jr. Theatre, performance and art show in the Spring of 2015!
Exhibitions:
Las Vegas
New York City
Malaysia
Montreal
Ottawa

Recent Activity