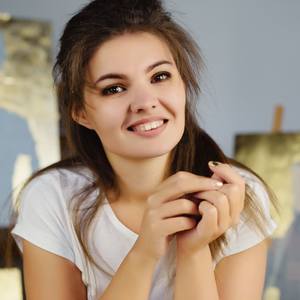 Follow
Asya Dobrovolskaya
Moscow, Moscow region , Russia
About Asya Dobrovolskaya
I have been engaged in photography for many years and I have been drawing since an unconscious age, so the color has become an emotional language of awareness of the real and intangible worlds for me, and photography has allowed me to create stories, in which I put subjective meaning into the object world. I usually use acrylic while painting on boards of different sizes. I use video if I want to give a static picture the energy of drama. I often use mirrors in my works because of their polyvalence and ambiguity. The combination of these media allows me to reflect as accurately as possible on the problems of the modern world. A new theme often encourages me to master new styles and techniques, invent a suitable tool for accurate visualization of the conceived. Using of author's complex mirrors (I cut them by myself, compose and make photos through their reflections) makes it possible to interact with the viewer asking him "Who are you here and now?". The fragmentation is the visual key that unites my works. The role of the fragment more often than not plays a mirror, or rather a reflection. The main subject of my research is stereotyped and conventional thinking. Each my project is a proposal to the viewer to get out of the" zero point of perception" - to replace his own perception and initiative with uncontrolled choice between the existing set of perception and behavior stereotypes. While analyzing each new subject, I examine myself for the presence of stereotyped thinking, and I try to struggle against it. By using combining of different techniques in my works, I construct a mechanism that helps the viewer to reflect on his fears, injuries, experience, mistakes and secret desires.
Education:
Additional education
"Free workshops" MMOMA
2017-2018

Higher education
Tyumen State Institute of Culture (2013—2015)
Degree: Graphic Designer

Average education
Tyumen Academy of Art and Social Technologies (2009—2013)
Specialty: Designer
Events:
Works are included in the collection of the "Russian Museum" St. Petersburg
Works in private collections around the world.
Exhibitions:
"Busan Architecture & Urban Media Competition" shortlist (Busan, 2019)

Participant of the «Affordable Art Fair New York Fall»
(New York, 2019)

Participant of the Moscow International Biennale For Yon Art in the Moscow Museum of Modern Art (2018)

Participant of the Moscow International Biennale For Yon Art in Special Project "INTRODUCTION. OBSOLETE PROGRESS" in the Open Storage of Polytechnic Museum (2018)

Participant of the IV Biennale of contemporary photography in the Russian Museum (St. Petersburg, 2016)

the final photo exhibition "Young photographers of Russia" (Moscow, 2016 and 2017)

photographer and author of the photo exhibition "SIBERIANS" (2016-2017) ...

The works were published in The Times (Great Britain), Esquire (Poland), "The new times" (Russia), "TASS" (Russia), "Russian reporter" (Russia), "Cozy sky" onboard magazine of airline "Uteir" (Russia), etc.


Recent Activity