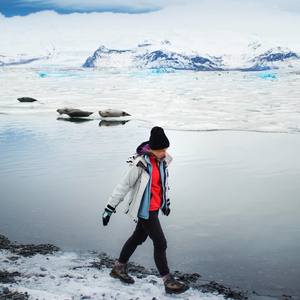 Follow
Alicja Jaworska
Wrocław, Dolnyśląsk, Poland
About Alicja Jaworska
On painting: Space and our way of perceiving it are deeply interconnected. They are a source of emotions, which I employ in my artistic work: vast open plains, monumental translucent glaciers, they all provide us with the impression of greatness and power of nature. My work is an attempt in enclosing it so that it can be, so to say, humanized, and therefore accessible for transformation into a cultural context. There are numerous possibilities of representing nature – our civilization knows many ways of transforming immeasurable areas into finite locations. My paintings abound in elements of landscape. Sometimes I try to synthetize shapes that intrigued me in a way to create a map, a blueprint that would describe a certain territory, an object or a phenomenon. A meticulous analysis leads to a reduction of some elements of the landscape represented in my paintings, so that the final work is characterized by its simplified form that encompasses only those of the features of the portrayed area that were prominent for me. Therefore, many of the places and objects I represent in the paintings may be perceived as various geometrical shapes of different sizes. The geometrical forms are not organized, as sometimes it is impossible to find the predominant element and my work is to pursuit representing everything I saw while not being able to find one accurate way to describe the general feeling. I frequently choose to depict some places from a bird's eye view in order to be able to refer to various locations and show the unevenness of the terrain, including the geological features of the Earth's surface. Some of the geological processes, while seemingly accidental to the untrained eye, create peculiar shapes and forms, which can be tied to the process of sedimentation. I aim to use the mechanics of this process, in which various solid materials are being transported by winds, running waters and glaciers, in my artistic realizations. That is why I employ the techniques of accidental painting in my work – I pour dilluted paint on canvas and observe how in the process of drying the pigment becomes separated from binders and dissolvents. This technique allows the artist to discover stimulating arrangements of stains, spots and other signs that will define a particular composition. I also combine different types of paintings – big and small, heavy and light – in order to create tension between flat shapes and three-dimensional sizes. This practice is intended to emphasize the disturbing quality of the relation between the size of the painting and the size of the areas it represents.
Education:
Alicja Jaworska (born 1991, Wrocław)
Alicja Jaworska has graduated from The Eugeniusz Geppert Academy of Art and Design in Wrocław in 2016, gaining a degree in painting under the supervision of associate professor Łukasz Huculak, Ph.D. She lives and keeps an art studio in Wrocław.

Recent Activity