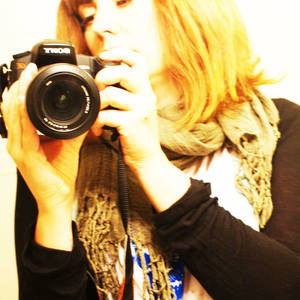 Follow
Lola Kabuki
Ortuella, Vizcaya, Spain
About Lola Kabuki
About me: Plastic artist, illustrator, blogger and writer.   Degree in Art from the University of the Basque Country. Complete his artistic training with studies of Graphic Design and 3D Animation in Deusto. Initially, he began his artistic career working with pencil and ink drawing techniques. Soon after, he focuses on oil and acrylic painting. Currently working with all kinds of artistic techniques, highlighting watercolor, ink and pastel. He participates in workshops organized by the Vizcayan painter Julián Momoitio, which he complements with various photography courses.  Member of the Professional Association of Illustrators of Euskadi, Euskal Irudigileak and Emakumeekin, Association of Basque women entrepreneurs and entrepreneurs.   Author of the comic books "Lola & Txabi" and "Family", from the children's book of the Orthographic Collection "Hache, the raccoon", from the coloring book "Color & CO", from the illustrated poetry book "What remains of me without ti ", from the novel of horror stories" 115 from Calle del Olvido "(2nd edition), and from the illustrated self-help manual" Socorro! I can not stand my mother-in-law "(2nd edition).   Make artistic body paintings in pregnant, Belly Painting, fully customized.   She has designed her own line of fashion and decoration t-shirts and accessories for "La Totadora", "Zazzle" and "Society 6". It has been "Image of the Week" of the Young Art Blog of Caja Madrid, and its blog, "LOLA KABUKI", is part of the blogs of the digital newspaper "La Vanguardia".   He currently holds exhibitions of face-to-face art and permanent exhibitions in virtual galleries such as Saatchi Art, Artinpocket, Behancé, Solidarters, Imartgine and Artelista, as well as paintings and all types of designs commissioned for companies and individuals.   Your creative work is always original. It covers disciplines as different as creative writing, printed illustration, painting, advertising, posters, body painting and mural painting.
Education:
ACADEMIC TRAINING
Bachelor Art. U. P. V.
Higher Degree in Basque: EGA
Administrative Management RR. LL. Complutense University Madrid
Master Technician Superior of P. R. L. Deusto
MOOCS:
"Be more creative". National Autonomous University of Mexico

"Application of social networks to teaching: Virtual Communities" Universidad Politécnica de Madrid

"Online advertising and direct sales based on networks" ESAN University

"Introduction to the Comunnity Manager" ESAN University

"Wordpress in a simple way"

"Microeconomics" Rey Juan Carlos University

"SEO, natural search engine positioning" University of Vic

"Copyright" Universidad Cooperativa de Colombia

"Mindfulness to regulate emotions" University of Málaga

"Introduction to creative drawing" Universidad Politécnica de Madrid

COMPLEMENTARY ART AND DESIGN COURSES:
Superior Technician in Graphic Design and 3D Animation. Deusto
"Introduction to children's illustration" Adolfo Serra. Domestika
"Modern watercolor techniques" Ana Victoria Calderón. Domestika
Painting courses-Workshop by the painter Julián Momoitio. Bilbao
Analog photography courses. Bilbao
Events:
LINKEDIN: https://www.linkedin.com/in/lolakabuki


MENTION TO LOLA KABUKI IN "JUVENTUD REBELDE" JUNE 2018

"NESKWORKING" IN THE DIARY DEIA. JUNE 2016

LOLA KABUKI IN THE SUPPLEMENT "WOMAN TODAY" MAY 2016

Home Woman Today

LOLA KABUKI AT "BIZKAIA IRRATIA" JAN 2016

DELIVERY OF DIPLOMAS TO ENTREPRENEURIAL WOMEN IN THE DIARY "DEIA" DEC 2015

CLAUSURA DFB 2015 DEIA

PRESENTATION OF LOLA KABUKI IN BILBOROCK NOV 2015

LOLA KABUKI PECHAKUCHA

LOLA KABUKI IN THE MAGAZINE "THIS IS YOUR FASHION MAGAZINE" OCT 2015

BENALMADELMAN INTERVIEW WITH LOLA KABUKI OCT 2015

LOLA KABUKI INTERVIEWED ON THE WEB "WOMAN AFTER 40" AGO 2015

INTERVIEW WITH LOLA KABUKI IN THE SUPPLEMENT OF THE DIARY "EL CORREO" DEC 2014

LOLA KABUKI SUPPLEMENT EL CORREO 2014

LOLA KABUKI INTERVIEWED IN THE "DEIA" NEWSPAPER 2014

DEIA 2014

LOLA KABUKI INTERVIEWED IN "TELE 7" AND IN "ENORTUELLA.COM" NOV 2014

TELE 7 2014

LOLA KABUKI AT "EL CORREO" NOV 2014

THE COURIER 2014

INTERVIEW WITH LOLA KABUKI ENTREPRENEUR, IN LANBIDE JUN 2014

IMAGE OF THE WEEK OF THE BLOG YOUNG ART OF CAJA MADRID: LOLA KABUKI MAR 2014

YOUNG ART

INTERVIEW WITH LOLA KABUKI IN FOROMUSEOS NOV 2013


INTERVIEW AT WHOHUB TO LOLA KABUKI ABR 2013
Exhibitions:
From 11/21/2016 to 12/31/2017 in PERMANENT EXHIBITION IN "IMARTGINE"

From 11/2/2016 to 11/30/2016 in "EXPO GAZTEA", MY EXHIBITION IN BARAKALDO

From 07/02/2016 to 07/30/2016 at EXHIBITION AT GRUPDART GALLERY IN BARCELONA

From 10/19/2015 to 12/20/2015 at EXHIBITION AT BAR ITZALA DE ARRASATE

From 07/09/2014 to 01/31/2018 in PERMANENT EXHIBITION AT ARTINPOCKET GALLERY

From 01/10/2014 to 12/31/2020 in PERMANENT EXHIBITION IN "SAATCHI ART"

From 10/10/2014 to 12/12/2020 in PERMANENT EXHIBITION AT THE GALLERY "ARTELISTA"
Recent Activity