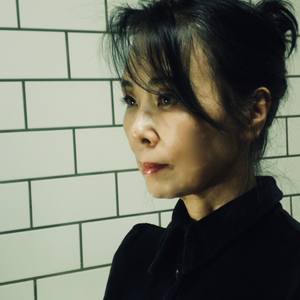 Follow
Motoko Matsuda
Tokyo, Kanto area, Japan
About Motoko Matsuda
Artist Statement : I am particular about black as a color and lines. The motifs are diverse, but all expressions are based on this basis. The diversity of themes is one of the characteristics of Japanese art, and I would like to create a fusion of various elements by harmony in a natural way. Biography : I was born and raised in traditional hand painted kimono textile artists' family in Kyoto city, Japan. Also there are many traditional and modern museums near my home and visited there well. And I was grawing to love foreign children's books, American animations and dramas on TV, too. So both of Japanese and western art feelings penetrated me. I started my career as a textile designer for Paris and NY haute couture in the textile design company and next entered a German textile designer's studio as the same occupation. After that as a freelance, I set up my studio in Aoyama, Tokyo, created many illustrations and art works. Creating art works as a fine art, and held many solo and selected group exhibitions in inland and overseas since then.
Education:
Graduated from Saga Art Junior College at Saga Art University, Kyoto and Keio University in BFA, Tokyo.
Events:
2012 ISHIDA OMOTESANDO for the publishing book event with Kaoru Tony Komori, the writer. 2000 Come-sta,1998 Taro Okamoto memorial museum, 1998 Este Gallery, 1988 Dim-Sum Ginza
Award: 1989 Given " Certificate of excellence" by American museum curators choice world wide competition.
1989 Added Museum of Modern Art, MOMA(NY)'s permanent collection as in mixed media books by various artists.
Exhibitions:
2019/1/12 - 2/1 Selected Group Exhibition in "Year of The Boar Exhibition" at FCCJ [The Correspondent's Club of Japan] Marunouchi, Tokyo.
2017/1/10-2/28 Limited permanent exhibition at Gallery Galatea.
2016/11/19-23 Group show at Gallery Galatea, including a collaboration work with a famous song writer, poet.
2016/1/10-2/28 Limited permanent exhibition at Gallery Galatea,
2015/11/19-23 One man show at Gallery Galatea
2011/12 One man show at ISHIDA OMOTESANDO,
2011/3 Invited charity show of 311 Japan aid: In rivers,Brooklyn
2007/1/4-22 One man show at Gallery Galatea,
2000/11 One man show at Come-sta, Tokyo
1999&1998 One man show at Gallery Galatea.
1990/7/19-8/21 One man show at Roppongi WAVE Step Gallery,
1998-2012 Selected and Invited show at Every even number year Gallery Galatea Viennale,
2007 Invited at Tokyo metropolitan museum,
2004 Selected group show at Fayetteville museum of art(NC,USA),
1992 Selected group show at Aoyama Spiral Hall,
1990 Selected group show at P3 Art&Environment,
1990 Selected group show at Momentum Gallery(CA,USA)
1989 Selected group show at Lucia Gallery(NY),
1989 Selected group show at An art fair in LA convention center,
1989 Selected group show at Meguro Museum,Tokyo
1986 Competition selected group show at Sanseido Gallery, 1984 Competition selected Kyoto Industrial Cultural Center.

Award : I was given The Certificate of Excellence in mixed media part from Artitude which was a world wide art competition in NY,'89. The curators of it were from Fog Art Museum, Chicago Museum and other famous American museums.

Public collection : I was chosen to create an experimental book which was many artists' joined. An experimental book that many artists joined including my work was selected by MOMA permanent collection in '89.

Private collection : A gallery owner, CEO of a subsidiary bank of Mega bank, a principal family of a traditional big food company, a principal family of environmental company, dentists, doctors, lawyers, financial company workers, song writers, musician, actors, system engineer, designers and more.

Recent Activity