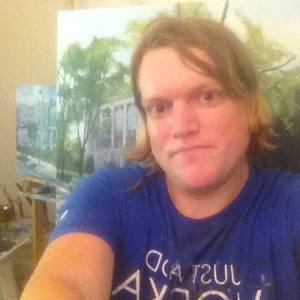 Follow
Natalie Gates
Richmond, VA, United States
About Natalie Gates
My paintings depict buildings, landscapes and nature in an urban setting.  The repeating patterns in architecture and other manmade objects; like cars and power-lines, is a visual language that I return to often. I use this language to depict urban settings that are often absent of people or juxtaposed with nature. I am interested in the similarities between cityscape and landscape. Objective skill in painting is something I have always been drawn to. I particularly admire the work of American artists  John Singer Sargent and Robert Henry. Like the Ashcan school I am interested in depicting everyday subject matter more than romantic idealized subjects. However, I tend more often to loose expressive brushstrokes, and I look at my subject matter as a mere framework on which to paint. I like to think of skill in painting as a tool that aids in expressing emotions. I base most of my paintings on photographs. The subject matter of my paintings is not nearly as important as the paint itself. Therefore, I don't usually devote much time to working and reworking my composition. Rather, I prefer quick snapshots taken with my iPhone the moment I am inspired by a particular view, than I do careful planning. The way I apply paint is more important than where, or how.  Different buildings, structures, and scenery are important in so much as they inspire different and interesting paint marks.
Education:
Natalie Gates studied art at both the Corcoran College of Art and Design and Virginia Commonwealth University. She earned a Bachelor of Fine Arts Cum Laude from VCU in 2005.
Events:
Natalie Gates was the winner of First Art 10, with the New York Youth Symphony.
She participates regularly in the Hardywood Yart Sale
Exhibitions:
Natalie Gates has shown work in juried shows at Artworks Richmond, and Crossroads Art Center in Richmond VA.
In the past she showed works at the Robert Rentz gallery in Richmond VA.
Recent Activity