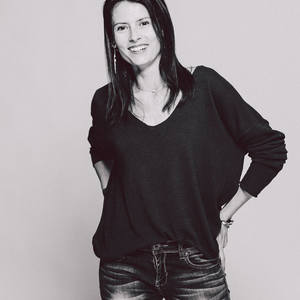 Follow
Sangie Artist
Aix en Provence, PACA, France
About Sangie Artist
Born in Paris, Sangie lived in Australia. She has now established her artistic studio in French Provence. Here, she harnesses that famous light in her abstract paintings. After drawing and oil, she works acrylic which is now her favorite artistic medium. She leans on her modern dancer's sensations and she applies colored layers to highlight emotions and embark us on different levels of reality. Over the years, she tirelessly studies the way in which abstraction and the energies conveyed naturally take precedence over reality, in order to transcend the limits of the physical world. The optimism which emanates from her work is passed on the one who looks at her paintings. ************ Née à Paris, Sangie a vécu en Australie. Elle a créé son propre atelier en France, à Aix-en-Provence. Elle y exploite cette fameuse lumière dans ses peintures abstraites. Après le dessin et l'huile, elle travaille désormais l'acrylique qui est devenu son medium artistique favori. Elle se base sur ses sensations de danseuse et elle applique avec talent des couches de couleurs variées pour mettre en évidence les émotions et nous embarquer dans différents niveaux de réalité. Au fil des ans, elle étudie inlassablement la façon dont l'abstraction et les énergies véhiculées prennent naturellement le pas sur la réalité, afin de transcender les limites du monde physique. L'optimisme qui émane de ses œuvres se transmet à celui qui les regarde. Reconnue en France et à l'étranger, Sangie expose régulièrement (voir onglet Expos). A venir: exposition au Chelsea Hall à Londres en octobre 2018 puis elle sera représentée à partir de Novembre 2018 par la Galerie Colorida del Arte à Lisbonne.
Education:
Self-taught artist, following research and artistic creation workshops with Aclif since 2016.
Founding member of French artistic collective "Arty4Aix".
Artistic Director for Christophe Keip French Photographer.
Founding president of the French association Ma Raison d'Art which promotes painting, dance and photography and encourages young artists to showcase their creations.
Maison des Artistes, France.
Dancer since ever: modern, classic, cabaret, musical.
Studied Marketing and Communication in Australia & France.


Events:
10-16 Decembre 2018: "The Gate of Heaven", Venue A&D, Londres, ANGLETERRE
Opening show on the 12th November

6-9 Decembre 2018: Art Basel, MIAMI BEACH
Private day, 5th December

30 Novembre - 4 Décember 2018: "Unity in Variety IX", Substrate Gallery, Los Angeles, USA
Opening show on the 30th November

Octobre 2018: Parallax Art Fair, Chelsea Hall, LONDON, ENGLAND
Opening le vendredi 19 octobre (sur invitation)

A partir de November 2018: Exposition permanente, Colorida Art Gallery, LISBON, PORTUGAL
Opening le samedi 17 novembre

Octobre 2018: Galerie Maison Buon, MARSEILLE, FRANCE
Vernissage le mercredi 17 octobre
Exhibitions:
Decembre 2018: Art Basel MIAMI, represented by Gabriel Fine Art

Decembre 2018: "The Gate of Heaven", Venue A&D, Londres, ANGLETERRE

Novembre 2018: "Unity in Variety IX", Substrate Gallery, Los Angeles, USA

Octobre 2018: Parallax Art Fair, Chelsea Hall, LONDON, ENGLAND

A partir deNovember 2018: Exposition permanente, Colorida Art Gallery, LISBON, PORTUGAL

Octobre 2018: Galerie Maison Buon, MARSEILLE, FRANCE

Septembre 2018: "Together, stronger", Galerie l'Ephémère, Aix-en-Provence
& "Dans la peau d'une femme", Galerie l'Ephémère, Aix-en-Provence

2018: Galerie Art Store, CANNES

April 2018: Galerie l'Ephémère, AIX-EN-PROVENCE

March 2018: GMAC Art Fair, PARIS

March 2018: Château des Templiers, GREOUX-LES-BAINS

Feb. 2018: Galerie Azimut, AIX-EN-PROVENCE

2017 - 2018: solo exhibition, Restaurant La Cerise sur le Gâteau, Aix-en-Provence
Dec. 2017: Solo exhib, Hôtel des Augustins, Aix-en-Provence
Nov. 2017: Arty4Aix, Saint Marc Jaumegarde
Sept. 2017: Hôtel des Augustins, Aix-en-Provence
September-December 2017: solo exhibition, Restaurant Rooftop la Terrassa, La Ciotat
June 2017: Art&Troc Galerie Atelier 13, La Ciotat
May 2017: solo exhib, Galerie Atelier 13, La Ciotat
2017: solo exhib, Espace Beaux-Arts, Cultura Aubagne
2016: Galerie Paradis 180, Marseille
2016-2017: Expo solo, Office Notarial A. Banoun, La Penne sur Huveaune
2016: Forum des Métiers d'Art, Eguilles
2016: solo exhib., Restaurant Gault et Millau Vin et Un, Hyères
2012-2015: solo exhib., Office Notarial A. Banoun, La Penne sur Huveaune
2014-2016: solo exhib., Restaurant Le Point Zéro, Paris
Recent Activity