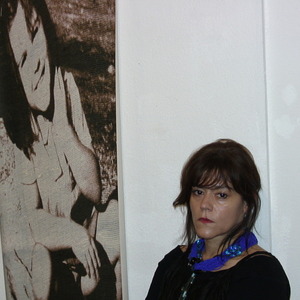 Follow
Dijana Tomik Radevska
Skopje, Havanska, no.4, Europe, Macedonia
About Dijana Tomik Radevska
Dijana Tomik-Radevska Born in Skopje, Macedonia, 1961. Obtained BFA in 1984 from the Faculty of Fine Arts, Department of Art Printmaking and Graphic Design, Skopje. Member of Fine Arts Association of Macedonia since 1985. Residence in Dresden at the Open Graphic Studio in 1997. Since 1999 she is Official knight at the Accademia di Greci Marino - Italy, Departement of Art. Since 2007 Teaches Art at the IHS High School, Skopje. Designs and produces unique hand made carpets and kilims in limited edition in masterpiece studios in Macedonia. She is devoted to Art Printmaking, giving different perspective on Art in Printmaking using classic techniques and experimenting in combining various techniques in mono prints. Works on art printmaking, pantings, collages, art installations, papermache, design and video art.
Education:
Skopje, (R of Macedonia) BFA 1984 on the Faculty for Fine Arts, department Art Printmaking and Graphic Design.


1997 Dresden Artist in Residence at the Open Graphic Studio in 1997.

2017 Paris, Artist in Residence at Citte des Arts.


Events:
Founder member of the art group Circle. Received Golden medal and Diploma from galleria Modigliani in Milano (1996). Ljubomir Belogaski Award for the best exhibition in the Skopje City Museum (1996). Award of the Macedonian Art Association for art printmaking (2011).
Participated on Art Colonies in Macedonia, Art Colony Bitola and Bucharest, "Creating New Witnesses to the Holocaust''.
2015 Nominee at Alliance for Artisans Enterprise, USA Washington DC, State Department.
Exhibitions:
Solo exhibitions: Skopje (1998, 1992, 1995, 1996, 1998, 2002, 2005, 2010, 2012, 2016, 2017); Ohrid (1988, 1992, 1995); Gevgelija (1985); Kumanovo (1995); Shtip (1995), R. Macedonia; Milano, Italy (1996); Maastricht, Nederland(1997); Aachen, Nederland (1998); Zagreb, Croatia (1999, 2012); Bitola, R.Macedonia (1999, 2003); Fremantle, Australia (2000); Berlin, Germany (2006); New York, USA (2006); Belgrade, Serbia (2009); Prilep, R.Macedonia (2011, 2016). Selected group exhibitions: Skopje, Bitola, Saint Niklaas, Paris, Dresden, San Remo, Sofia, Valjevo, Varna, Offenbach am Main, Krakow, Chamalièrer, Falun, Podgorica, Zagreb,Belgrade, Vienna.
Recent Activity