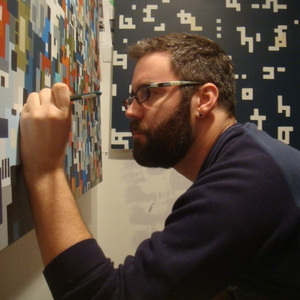 Follow
James Fowler
Toronto, Canada
About James Fowler
b. Germany 1971.

All art begins with grids. All artists long for grids.
- American poet John Taggart

While I do not try to literally depict cities and neighbourhoods, I aim to capture the bustling motion and excitement of a busy urban environment. I like using colours and patterns found in the architectural vernacular of a city and try to capture its essence as seen from above. As an artist interested in urban development and sustainability, the hive-like structures we build up around us and our own insect like behaviour within these structures fascinate me. I seek to recreate the animated gestures of these ever vibrating landscapes, striking a balance and harmony between the rigid man-made infrastructures and the organic and fluid way of the earths natural geography. In creating these paintings I hope to evoke the same lively feelings one gets when flying into a new big city for the first time when we try to take everything in or the lasting impressions stored in our memories of travelling anywhere far from home.

Education:
2004 YORK UNIVERSITY Toronto
BFA FILM

2006 GALLERY X Toronto
2007 VELVET Toronto
2007 TOAST Toronto
2008 SKIER GALLERY Toronto
2009 SKIER GALLERY Toronto
2009 DECORAZON Dallas,
Events:
Future Shows: SEPT. 3 2009
GALLERY 533 Toronto
APRIL 2010
SKEIR GALLERY Toronto

Recent Activity