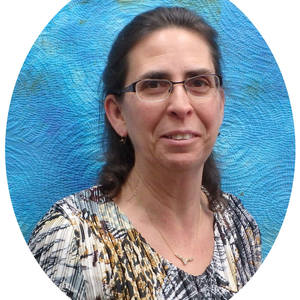 Follow
Jean Judd
Cushing, WI, United States
About Jean Judd
I have been constructing textile artworks for over twenty-eight years incorporating dense hand stitching which gives visual and physical texture to my work. I was born in St. Paul, Minnesota in 1963 and have had my studio in Cushing, Wisconsin since 1991. My work includes pieced work using commercial fabrics as well as rust pigmentation and non-traditional dyeing techniques. More recent work has been using whole cloth construction using my hand dyed and painted fabrics and rust pigmentation along with my signature hand stitching. Each piece is unique and starts with an idea from my subconscious and develops as I construct the artwork. Decisions are made regarding materials, technique, size, and sculptural stitching as the piece develops. Nothing is preplanned so the initial idea may not be even close to what the finished artwork reveals. My medium is thread on textiles, much like a painter's medium is "oil on canvas" or "acrylic on hard board". My work can be found in many private art collections around the world. Commission work keeps my schedule full for several years in advance. I exhibit my award winning artwork nationally in juried fine art exhibitions in galleries, museums, and art centers. I am represented by several fine art galleries across the United States. I am the author of several books available worldwide, describing my processes, artistic philosophy, and experiences with artist residencies.
Education:
Life has been my educator. I have honed my skills in design and hand stitching by creating a large body of work (over 200 textile pieces)over the last twenty-five plus years.

Most of this work is in private collections around the world. Recent work is making its way into gallery and art center exhibitions where it is seen and collected or commissions are requested.
Events:
See my full resume on www.jeanjudd.com
Exhibitions:
Partial Current & Recent Exhibitions:
2019 Exhibitions:
24th Arts in Harmony 2019 International Show, Hopkins Center for the Arts, Hopkins, Minnesota
2018 Exhibitions:
Forward 2018: A Survey of Wisconsin Art Now, Charles Allis Art Museum, Milwaukee, Wisconsin: November 15, 2018 – April 30, 2019.
Center for Contemporary Arts National Juried Competition, Breed Gallery, Abilene, Texas: November 6, 2018 – January 26, 2019.
Art Comes Alive 2018, Art Design Consultants Gallery, Cincinnati, Ohio: October 6 – November 30, 2018.
Still Water Exhibition, St. Croix River Headquarters, St. Croix Falls, Wisconsin: September 12 – Oct 30, 2018.
Still Water Invitational Exhibition, Stillwater Art Guild Gallery, Stillwater, Minnesota: August 1 – August 30, 2018.
Art from the Heartland Exhibition 2018, Indianapolis Art Center, Indianapolis, Indiana: June 22 – August 8, 2018.
Blink Art Showcase Exhibition, Art Design Consultants Gallery, Cincinnati, Ohio: June 8 – July 31, 2018.
60th Juried Exhibition at The Haggin Museum, Stockton, California: May 17 – July 15, 2018.
Artist as Quiltmaker XVIII, Firelands Association for the Visual Arts, Oberlin, Ohio: May 13 – July 29, 2018.
46th International Art Exhibition, Brownsville Museum of Fine Art, Brownsville, Texas: April 25 – May 26, 2018.
Abstract National 2018 Exhibition, MARK ARTS, Wichita, Kansas: April 13 to July 7, 2018.
Arts in Harmony Traveling Exhibition, Maple Grove Arts Center, Maple Grove, Minnesota: April 2 – May 3, 2018.
At the Surface Exhibition, Foundry Art Centre, St. Charles, Missouri: March 23 – May 4, 2018.
23rd Arts in Harmony 2018 International Show, Hopkins Center for the Arts, Hopkins, Minnesota: Feb 15 to Mar 16, 2018.
Mesa Contemporary Arts' 39th Annual Contemporary Crafts, Mesa Contemporary Arts Museum, Mesa, Arizona: February 9 to April 15, 2018.
US State Department Art in Embassies Program, US Embassy Lima, Peru 2018-2021.
2017 Exhibitions:
Craft Forms 2017 23rd International Juried Exhibition of Contemporary Fine Craft, Davenport Gallery, Wayne Art Center, Wayne, Pennsylvania: December 8, 2017 to January 27, 2018.
Annual Christmas Show, Stillwater Art Gallery, Stillwater, Minnesota: December 2 to 31, 2017.
Fine Contemporary Craft Exhibition, Artspace Inc., Gallery One, Raleigh, North Carolina: December 1 through January 13, 2018.
Wichita National All Media Craft Exhibition 2017 at the MARK ARTS in Wichita, Kansas. September 8 through October 15, 2017.
Water: The Essence of Life, Alfons Gallery, Milwaukee, Wisconsin: June 11 – August 6, 2017.
30th Annual September Exhibition, Alexandria Museum of Art, Alexandria, Louisiana: June 2 – September 23, 2017. **Awarded Honorable Mention
National Weather Center Biennale, Norman, Oklahoma: April 23 – June 19, 2017. **Awarded Best in Mixed Media
2017 Overland Park Art at the Center Juried Exhibition, Art at the Center Gallery, Overland Park, Kansas: April 7 to June 12, 2017.
Mesa Contemporary Arts' 38th Annual Contemporary Crafts, Mesa Contemporary Arts Museum, Mesa, Arizona: February 10 to April 23, 2017.
Arts in Harmony International 2017, Blaine City Hall, Blaine, Minnesota: January 31 to March 30, 2017.
Confluence Juried Art Exhibit, WaterWorks Art Museum, Miles City, Montana: January 29 – March 3, 2017. Selected artwork: Fractured 'Gello #2.
49th Annual All-Media Juried Exhibition, Octagon Center for the Arts, Ames, Iowa: January 27 to April 1, 2017. Selected artwork: Rusted Vines and Hinges.

2016 Exhibitions:
64 Arts National Juried Art Exhibition, Buchanan Center for the Arts, Monmouth, IL: Sept 27 – Oct 29, 2016.
Water Works 2016, Annapolis Maritime Museum, Annapolis, MD: Sept 22 - Oct 30, 2016. **Honorable Mention.
Axis Gallery 11th National Juried Exhibition, Axis Gallery, Sacramento, CA: Aug 5-28, 2016.

***Visit www.jeanjudd.com to see full list of fine art exhibitions.
Recent Activity