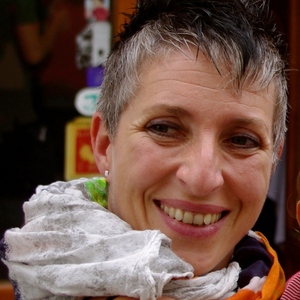 Follow
Valeria Di Tommaso
London, London, United Kingdom
About Valeria Di Tommaso
She was born in Buenos Aires, Argentina, in 1972. Studied at the National Academies of Art Prilidiano Pueyrredòn and Ernesto della Càrcova obtaining her BA in Fine Arts and MA in Printmaking and Printed Arts. Since 2000 has been engaged in her own professional Art project, producing art works, holding exhibitions and taking part at International Competition level: www.valeriaditommaso.com.ar She was Assistant Professor at I.U.N.A Instituto Universitario Nacional de Arte in Buenos Aires, Argentina, until 2003. In 2003 she moved to Europe and worked for 11 years in Florence, Italy. Today she lives and works in London, UK. About my work: My work involves the creation of woodcuts, engravings, collages, drawings and three-dimensional works of art in which the strong graphic line is the central element. I'm interested in scoring markedly surfaces, by making use of bold strokes, especially evident in the woodcuts. These well-marked signs, often accompanied by equally strong colors are the hallmark of my appearance; a search that has often had, as a starting point, a personal concept of landscape in which condense rounded shapes, overlapped images, the use of forms derived also from the same matrix that is repeated in different ways through the use of the negative and positive and a strong focus on specific details. The geography, the nature and the urban landscape, my memories together with imaginative places linked to some particular literature are recurring themes in my work, organized in series or chapters that can be read like short visual stories.
Education:
Escuela Nacional de Bellas Artes Prilidiano Pueyrredòn:
Profesor Nacional de Bellas Artes con especializaciòn en Pintura. 1995
Profesor Nacional de Bellas Artes con especializaciòn en Grabado. 1998
Escuela Nacional Superior de Bellas Artes Ernesto de la Càrcova: Profesor Nacional Superior de Grabado. 2002

.
Events:
Have her works:
• Biblioteca Nacional de Madrid, Archivo de Grafica Contemporanea
• Associazione Incisori Emiliano-Romagnoli AIER
• Archivio delle Stampe Contemporanee del Basso Lazio.
• Archivio Sartori, Mantova.
• Museo Internazionale della Grafica Francavilla al Mare.
• Contemporary Graphic Fund Octavian Goga Cluj County Library Romania.
• Yokosuka Peace Foundation Japan.
• Japan Print Association at Sakima Art Museum Okinawa Prefecture, Japan.
• Gabinetto delle Stampe del Comune di Bagnacavallo, Ravenna.
• Archivio del Centro di Documentazione del Libro d'Artista, Comune di Cassino.
• Il filo di Partenope, edizioni d'arte, Napoli.
• Libri Necessari, libreria d'arte, Roma.
• Museo della Grafica Italiana con sede a Vigonza.
• Fondazione Cassa di Risparmio di Bologna.
Exhibitions:
2013 "I Luoghi del Racconto", personale, Tedofra Art Gallery, Bologna.
2013 "Xilografie" Otto artisti della ALI, Circolo CarderArte di Calderara di Reno, (BO)
2013 42°Yokosuka Peace Exhibition of Art, Japan
2012 "Carving myself" Autoritratti ALI, Museo delle Cere Anatomiche Luigi Cattaneo, Bologna.
2012 "I sette vizi capitali" Annuario ali 2012, Antica Corte Pallavicina, Galleria delle Botti, Polesine Parmense, Parma.
2012 Supplemento L'Occhio nel segno al n°90 della Rivista Grafica d'arte, pagina centrale.
2012 "Creatività in Sala", Art Expertise Storici dell'arte a Firenze, Firenze.
2012 "Scritture d'acqua", ALI, Consorzio della Bonifica Burana, Sala dei Contrari e
Sale della Meridiana, Rocca di Vignola.
2012 "Trecento Opere per Cento Artisti", Galleria d'arte Signorini, Lendinara.
2012 "I Vizi Capitali" ALI, Galleria Fondazione Il Bisonte, Firenze.
2012 International Graphic Triennial Bitola, selezionata, Macedonia
2011 "Se Ipsum", Museo Civico delle Cappuccine, ALI, Bagnacavallo.
2011 Almanacco Associazione Italia Nostra, presentazione a cura di Marco Carminati, sede della sezione Reggio Emilia.
2011 IV Festival del libro d'artista e della piccola editoria "Use a book", Associazione ILDE, Barcelona.
2011 1000+1000+1000 Un progetto di Philipe Daverio, Palazzo Fava, Bologna.
2011 Case d'arte, i luoghi della creatività. Progetto guida dell' Associazione ARTEFICE, Firenze.
2010 BAU 7 Settimo Contenitore di Cultura Contemporanea. Progetto Bau, Viareggio e varie sedi.
2010 "Arte per la Ricerca" Museo Archeologico Nazionale di Firenze, Fondazione FiorGen onlus.
2010 "El grabado en el Bicentenario" Centro Cultural Paco Udaondo, Facultad de Filosofia y Letras de la Universidad de Buenos Aires.
2009 Le donne dell'arte in Toscana nel XXI secolo, volume I a cura di Filippo Lotti e Fabrizio Borghini.
2009 "Segni di donna" Mostra collettiva a cura della Fondazione Giuliano Ghelli, Castello dei Conti Guidi, Poppi.
2008 5ª bienal internacional d'art gràfic 2008 "Ignis", Sant Carles de la Ràpita, Spagna e Museo Michetti di Francavilla al Mare.
2008 "Nuovi giovani artisti" Galleria Artedove, Firenze, Italia.
2007 13x17 progetto a cura di Philippe Daverio, Milano.
2006 "Mon Dieu My God", Museo Archeologico Massa Marittima.
2005 Bienal Internacional Vila Nova de Cerveira, Portogallo.
2005, 2003 Biennale Internazionale di Grafica Museo Michetti, Francavilla al Mare.
2005 Progetto Esserci. Padiglione Italia. Venezia. Italia.
2005 "Giovani artisti" Associazione Culturale Renzo Cortina, Cortinaarte, Milano.
2004 "Waiting room" minipersonale collage, Galleria Fromscratch, Arezzo.
2004 Inaugurazione del Centro Studi MAGMA. Collettiva. Firenze.
2002 Salòn Municipal de Artes Plàsticas Manuel Belgrano, Museo Sivori. Buenos Aires.
2001 "Carcoveando", Centro Cultural Recoleta, 2001, Buenos Aires, Argentina.
2000 XLV Salon Municipal de Artes Plàsticas "Manuel Belgrano", Museo Sívori, Buenos Aires.
Recent Activity