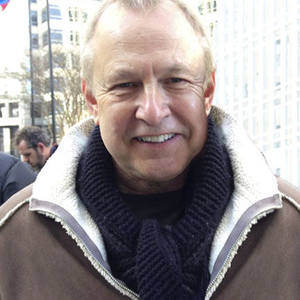 Follow
Richard Holland
Santa Monica, CA, United States
About Richard Holland
Richard Holland, brings his production designer skills to his artistic vision in his growing body of Portraits and Fine Artwork. His unique and highly original style reflects a montage of storytelling that brings together his experiences, influences and skilled techniques.His ornately carved picture frames and graphic images portray life as scripted worlds, encapsulated in time. The world is a magnificent stage where pathways cross and realities unfold before our very eyes; a world captured within and outside the box. Richard achieves keen physical dimension in his works that contributes to the rich layers of storytelling as expected from a Hollywood production designer's skill-set. Each work is infused with layers of History as much as his own personal history in entertainment.The hand-carved picture frames are an integral part of the storytelling and are as relevant to the process as the portrait itself.The artworks use perspective, computer compositing and skill-based production design techniques like draftsmanship, drawing, and painting learned in the European tradition of apprenticeship training when Richard started in the film industry. The work begins with freehand drawing and utilizes layers of techniques. The cut outs in the work derive from the use of perspective used in films Richard worked on like Indiana Jones, Labyrinth and Roger Rabbit. Colors used in the artworks are a purposefully muted and layered that telegraphs American images from the past . The layering effects in each work tell the deeper story of it all. The curtain opens and the stage is set. Fine Art and accepted commissions for Portraits. Acrylic paint and mixed media, each portrait and frame are Individually made to suit and compliment each sitter. The portrait and frame exudes character and story with it's unique look, feel and attention to dimensional detail.It is a assemblage of the the artist finding and making objects with the deeper understanding of appreciating the immersive experience. The paintings are beautifully rendered with a hint of whimsy,eccentricity and quirkiness that sets them apart from anything else. The Portraits encapsulate humor and yet intelligence that is painstakingly achieved. Neither garish or gaudy the palette shows restraint which is so much more subtle than it could be.
Education:
Richard Holland's education draws upon his continuous film-designing years,working with some of the most successful directors,producers and talent of our time.Ray Harryhausen, Franco Zeffirelli, Michael Bay, Michael Mann, Michael Cimino,Stanley Kubrick,Steven Spielberg, Kathleen Kennedy, Jim Henson, George Lucas, Dick Lester,Lyndsay Anderson, George Harrison and the great futurist and conceptualist Syd Mead- on some of the most dynamic and memorable films of this and past generations- Last of the Mohicans, Princess Bride,Roger Rabbit, James Bond, Superman,Batman, Indiana Jones and many many more.
He was educated at Ware College gaining BDS grades 1& 2 and then served an apprentiship under the renown draftsman Reginald Bream and set decorator Michael Ford.This expansive and rich entertainment industry experience led him to America which formed and enriched Holland's personal artistic path.
Known for his work creating some of the most visually dynamic and iconic films of this generation, it is his fine artwork that completes his personal narrative.
Events:
Academic Consultant for Savannah College of Art & Design (SCAD) 5 year review on Production Design.
Lectured Faculty at Art Center Pasadena on Production Design and Visual Effects.
Lectured Montana University.
Mentored Students at Hollywood Institute of the Arts.
Lectured at Otis College of Art & Design.
Judge at American Film Institute (AFI) for final year degree showcase.
Judge for Cable Ace TV awards.
Member Art Directors Guild of America (ADG)
Member The American Animation Guild (TAG)
Founding Member The British Film Designers Guild (BFDG)
Member Los Angeles Art Association (LAAA)
Exhibitions:
Apero Gallery Los Angeles Exhibition of paintings titled America.
International Special Merit Award for Light Space and Time .
Six page Interview for Art Reveal Magazine Issue 22.
TAG Gallery Los Angeles exhibitions of portraiture.
Gallery 825 Los Angeles Summer Show.
The Other Art Fair this coming Oct 2018.
Recent Activity